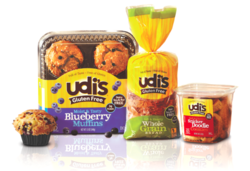 Hughes Design Group's approach delivers "actionable creativity"– the integration of strategy and design that drives ROI.
Norwalk, CT (PRWEB) September 19, 2012
Hughes Design Group, founded by Barney Hughes and a leader for the past 25 years in helping blue-chip clients create and revitalize their brand strategy and package design, today announced its partnership with the Udi's brand and its line of gluten free bakery products.
Up until recently, gluten free products have failed to live up to consumers' flavor and taste expectations, particularly with bakery items. Udi's Gluten Free, the number one brand in the gluten free baked category, solved this with the launch of their gluten free bread line. These items have the same texture, flavor and appearance as their wheat counterparts. Capitalizing on its initial success, the Udi's brand continues to offer more product choices to mainstream consumers.
As a result of Udi's explosive growth, the brand partnered with Hughes Design Group to establish a unifying brand strategy and visual identity for its line of products. The team developed all components of the Udi's brand architecture: clarity of brand proposition, strategy and design research, package graphics, retail schematics and brand style guide. The result was a brand story that visually and verbally cued Udi's key point of differentiation, great taste.
Hughes Design Group has a rich history of collaborating with brands offering products that are leading edge in natural, organic and wellness product categories. The design firm is one of few that understands how to effectively communicate these contemporary health trends in-store and on-shelf to consumers.
Daniel Hilbert, VP Marketing and Strategic Development, attributed the partnership with Udi's to the perfect fit between the Udi's and Hughes Design Group cultures. "We are like-minded professionals, driven to take a young, amazing brand to the next level - to continue to make it the leader today and tomorrow. We are both delighted about the results of the project, from the laser focus of the brand proposition to the creativity instilled in the package design."
UDI'S DESIGN SOLUTIONS IMPLEMENTED:

A strong brandmark on their signature yellow background creates a very distinctive brand block at retail
The use of color quickly informs shoppers of UDI's different flavors and varieties within and across its product portfolio
Open format package reveals and highlights the appeal and deliciousness of the brand's baked products
ABOUT HUGHES DESIGN GROUP
Hughes Design Group is a Strategic Marketing and Design firm located in Norwalk CT, specializing in brand identity and packaging design. With 25+ years in business, the agency partners with major consumer packaged good brands, working across a wide breadth of industries and categories. Hughes Design Group has earned a reputation for delivering innovative solutions that grow businesses. Its client partners appreciate the firm's high level of brand strategy, creative excellence and account service. Past and current clients include Spalding, Hydrive, YoCrunch, Wellpet, Smart Balance, Salada Tea, Jarden Consumer Solutions and Dean Foods.