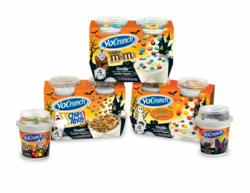 ...for moms and their kids, package design is a key way to standout on-shelf...
Norwalk, CT (PRWEB) October 23, 2012
Hughes Design Group, a leader for the past 30 years in helping blue-chip clients create and revitalize their brand strategy and package design, today announced its work with the YoCrunch brand to offer shoppers and retailers special Halloween yogurt packs.
The YoCrunch brand is one of the very few to understand that eating better can be fun too. This Halloween, YoCrunch continues to make yogurt fun. Partnering with Hughes Design Group, Halloween-themed packs liven-up retail shelves and revenues. Witches, ghosts, and the perennial orange hues will freshen up store aisles, consumers' refrigerators and kids' lunch boxes.
With its innovative line of yogurt products, YoCrunch is a leader in providing smarter snack and light-meal options for moms and kids. The brand's marketing team has been successful in carving out an ownable, unique category proposition. Licensing deals with other major brands, unique yogurt toppings and new products in growing segments, like Greek yogurt, are just a few reasons why the YoCrunch brand continues to prosper.
Daniella Kohler, Senior Director Strategy and Client Services at Hughes Design Group, states that every bit of brand differentiation counts. "Take a look at the yogurt shelf these days. It's confusing. The same package colors, identical pack structures and similar product benefits leave shoppers confused. Looking unique on-shelf, in a large or small way, makes all the difference in the world. Halloween, or any seasonal packaging, is not a tactic. For moms and their kids, package design is a key way to standout on-shelf, increasing consumption and motivating trial."
Hughes Design Group is a Marketing Strategy and Design firm located in Norwalk CT, specializing in brand identity and package design. With 30 years in business, the firm partners with major consumer packaged brands, as well as middle-market private equity firms. The team works across a wide breadth of industries and categories, earning a reputation for innovative solutions that grow businesses. Its client partners appreciate the firm's high level of brand strategy, creative excellence and account service. Past and current clients include Udi's Gluten Free, Spalding, Hydrive, Wellpet, Smart Balance, Salada Tea, Jarden Consumer Solutions and Dean Foods.