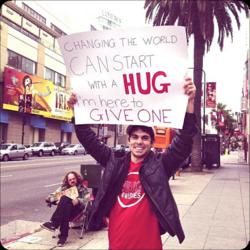 I want them to remember that changing the world can start with a hug... That's the inspiration behind this event. Now, partnering with GRANTS WISHES, we'll carry on Sharon's legacy and bring hope to children battling cancer a second time. - David
Los Angeles, CA (PRWEB) January 17, 2013
On January 21st, 2013 (National Hug Day), David Parsons III will attempt to hug 10,000 people to set a new Guinness World Record for "The Most Hugs Given in 24 Hours by an Individual," at ESPN Zone L.A. LIVE.
Through "sponsored hugs" David hopes to raise a minimum of $100,000 for GRANTS WISHES, a nonprofit organization that grants wishes to children whose cancer has relapse or who endure never-ending treatments.
"Two years ago, I lost a good friend to cancer. Shortly after she relapse, Sharon passed. When people ask themselves, 'What can I do right now to make a difference in the lives of those around me?,' I want them to remember that changing the world can start with a hug... That's the inspiration behind this event. Now, partnering with GRANTS WISHES, we'll carry on Sharon's legacy and bring hope to children battling cancer a second time." - David
The 24 hour World Record attempt will start late Sunday night, January 20th at 11:00 PM PST and will go all day Monday, January 21st. The attempt will take place just across the street from STAPLES Center at ESPN Zone L.A. LIVE ( 1011 S. Figueroa St. B-101 Los Angeles, CA 90015), immediately following The Born This Way Ball starring Lady Gaga. The official clock will begin exactly at 11:00:00 P.M (on Sunday, January 20th) and end at 10:59:59 P.M. (Monday night, January 21st). Special Thanks to Radius Group Inc. for their production consulting services as well as eGood and New Trent for helping power the iPads used to record the total hugs given.
To pledge your hug or sponsor one online, visit http://www.hug4wishes.org.
To help us spread the word, or to schedule an interview with David email us at: Media@ (at) hug4wishes (dot) org. To make a matching financial gift for the total amount of hugs given, email us at: sponsor (at) hug4wishes (dot) org. To pledge a celebrity hug email us at celebrityhugs (at) hug4wishes (dot) org. To volunteer, email us at Volunteer (at) hug4wishes (dot) org.
About Grants Wishes:
Grants Wishes (http://www.grantswishes.org) is a 501c3 nonprofit organization that grants the wishes of children whose cancer has relapsed or who endure never-ending treatments. The orgnanization enriches the lives of these children by bringing a smile o their face and adding moments of happiness to their lives. GRANTS WISHES was formed shortly after the passing of their son Grant, when Lori Sullivan was approached by a Physician at Children's Hospital of Orange County (CHOC) asking if she could help a child recently diagnosed with a relapse of cancer by granting hi a second wish of a big TV for Christmas.
About David Parsons III:
Inspire hope, spread love, live fulfilled- that's David's motto. "We've all been given time, talent, resources, and relationships. My goal in life is to help as many people as I an leverage these to make a positive difference in the world around them." David is the CEO of DEPIII, Inc. a business development, life-coaching, and motivational speaking company. Additionally, he's the Business Development Director for a Los Angeles based ad agency called SWIRE (http://www.goswire.com) and the co-owner of John Parsons Photography (http://www.johnparsonsphotography.com)
About New Trent Inc:
New Trent is a Fremont, CA based designer and manufacturer of mobile accessories. Consumers depend on New Trent to power their business-critical mobile and tablet devices. New Trent is recognized around the world for its exceptional products, premium customer service, and competitive prices. The company has grown tremendously in the past 5 years and now ready to once again wow the world with its new line of products releasing Q1 of 2013. New Trent is certified by Apple Inc. and is under Apple's Made For iPhone program with some products. All of New Trent's devices are developed with simplicity and usability in mind. For corporate and media, product testing or reviews contact Johnson Jeng at johnson.jeng (at) newtrent (Dot) com