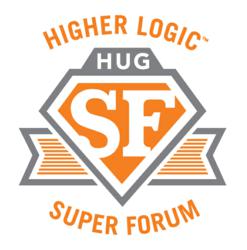 "The HUG Super Forum is the place to be if you want to learn more about social media and building community," says Rob Wenger, CEO and Chief Technology Officer for Higher Logic.
Washington, DC (PRWEB) November 08, 2011
Higher Logic, the leading association private social media solution provider, is proud to announce the second annual Higher Logic User Group Conference. The 2011 HUG Super Forum is scheduled for December 4-6 at the Walter E. Washington Convention Center in Washington, DC.
The HUG Super Forum is an exclusive annual three day intensive training, educational and social event for Higher Logic clients and partners around the world who utilize Higher Logic's social media software, Connected Community. Registration is now open for Higher Logic Users. Conference registration includes full access to the HUG Super Forum – Higher Logic office hours, strategy and training sessions, meals, and scheduled networking events on Sunday and Monday.
"This is the second year of our SuperForum and I am amazed at how sophisticated our users are. Many of our clients have several years of experience with Connected Community and social media and we have clients that are brand new to the idea and our product. This is where you will see collaboration at its beststated Rob Wenger, CEO and Chief Technology Officer for Higher Logic. "I am excited to host this incredible event where our clients and partners can come together to enrich the Connected Community user group and learn best practices."
By attending the HUG Super Forum, association, non-profit and member-based organization clients will learn more about social networking, mobile and emerging technologies, as well as, participate in-depth training on Connected Community products. The presentations and training sessions are facilitated by Higher Logic staff, industry experts and association colleagues.
The program includes:

Sunday, December 4 – Office Hours (one-on-one meetings with Higher Logic staff)
Monday, December 5 – Sessions and Networking Event
Tuesday, December 6 – Sessions and Training
For more 2011 HUG Super Forum information, visit the event website at http://hug.higherlogic.com.
ABOUT HIGHER LOGIC
Higher Logic provides innovative professional social networking and collaboration solutions for associations and non-profits seeking to attract new members and energize existing members. The Connected Community™ application suite empowers members to exchange ideas, share best practices and collaborate- anytime, anywhere. Higher Logic's suite of products offer a new dimension of value to constituents, with Connected Community's pre-built integration to leading association management systems and M² ™ - Mobile Membership™ smart phone app. Higher Logic delivers solutions so member-based organizations can increase their presence and attract a new generation of global members.
###