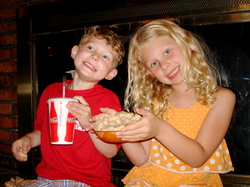 In a recent poll, Hulafrog.com, a website for Red Bank-area moms, asked its members to vote for their favorite summer dinner spots.
Red Bank, NJ (PRWEB) July 1, 2010
Skip the supermarket and cancel the baby sitter. With so many kid-friendly eateries around, summer is a great time for a fun night out with the family. In a recent poll, Hulafrog.com, a website for Red Bank, NJ-area moms, asked its members to vote for their favorite summer dinner spots. These restaurants will welcome your little ones with open arms (yep, really) and let you and your other half enjoy a night out, good food, and even an adult beverage or two.
Barnacle Bill's, 1 First Street, Rumson. This hands-down favorite on the Navesink has no separate kids' menu. But there are more than enough options from pasta to chicken fingers to please every picky eater. The place has a fun vibe and is loud (translation: no one notices our toddler's pre-entrée meltdown). There's a hopping bar (with a yummy-but-lethal Long Island ice tea), a floor covered with peanut shells, and some of the best burgers and seafood in the two rivers area. Families often "wait out the lines by walking down to the dock to feed the ducks." Co-owner Todd Sherman tries hard to offer lots of options at different price points so there is something great for everyone at the table, including the under 12 crowd. "Our dining room is always full of families." The record number of crying kids at once? "Ten. Sort of like a rock opera of babies." Now that's our kind of place.
Windansea, 56 Shrewsbury Avenue, Highlands. Grab a table by the beach and let the little ones play in the sand while you sip on a pina colada from the Tiki Bar. The younger set is greeted with an activity mat and crayons. Menu favorites like mac & cheese, individual pizzas and pigs-in-a-blanket are topped off with a teddy bear sundae for dessert. Favorites for mom and dad include "awesome bacon wrapped scallops," "fabulous fried calamari" and "a delicious spinach salad." Families that live near the Sandy Hook Bay "love to ride over on the bike path" and "bring their dancing crocs for the live music on the weekends."
Kanji Steakhouse and Sushi, 980 Shrewsbury Avenue, Tinton Falls. This hip hibachi and sushi restaurant gets rave reviews for its great food and fresh sushi. And bonus points for a kids' hibachi menu that provides a welcome alternative to chicken fingers and fries. Kids "love to sit around the hibachi and watch the chef slice, dice and do tricks." The restaurant "is always packed after 7:00" and "has a cool vibe" that reminds some moms of their favorite hot spots in the city… but with kids. It's BYOB, with a wine store next door.
Gaetano's Restaurant, 10 Wallace Street, Red Bank. A Red Bank staple for 10 years, Gaetano's is an ideal place for families. Enjoy homemade pastas and fresh, authentic Italian fare while the kiddies munch on delicious brick oven pizza. Fans "love the open air kitchen, casual atmosphere and sidewalk seating in the summer." Head over on Sundays for Family Nights and choose from six entrees, pastas & salad all served family style, including ice cream for dessert. Fun fact: The restaurant offers kids cooking classes for your mini-chefs during the school year.
On the Deck Restaurant & Harbor View Bar, 2 Simon Lake Dr, Atlantic Highlands. This is the sister restaurant of popular Off the Hook in Highlands. The large outdoor bar and dining area has a great view of Sandy Hook and Manhattan, as well as an hour-long wait in the summer. So get there early. The kids' menu has classics like grilled cheese and burgers with fries that can be substituted for healthier options like roasted potatoes or veggies. And we love that the kids' entrees are all named after the owners' children. Moms say it's "an easy choice for dinner with the whole clan in the summer." Some families end the night by "strolling through the marina and hitting the nearby playground."
Juanito's Restaurant, 159 Monmouth Street, Red Bank. Mexican food is always a fun option for kids and Juanito's has some serious fans. A bit off the beaten track in Red Bank, this restaurant has a festive décor, outdoor-ish seating on the covered back patio, and really yummy south-of-the border cuisine. Fans "Love, love Juanito's" and "won't go anywhere else for authentic and fresh Mexican." The kids' menu is "small, but more than enough" to keep 'em happy and "you'll always see tons of families here." The prices are a wee bit higher than some other local Mexican joints, but it's BYOB, which helps keep the tab in check. Show up with some Coronas and your server will bring you a bucket of ice and plate of limes. Nice.
Rooney's Oceanfront Restaurant, 100 Ocean Avenue North, Long Branch. While this restaurant gets mixed reviews for its entrees, there is little debate over the amazing view (on the beach surrounded by palm trees), the ample bar and vast outdoor seating. Even better, you'll likely find lots of kids running around that are just as, umm, "active" as yours. So relax and enjoy something from the massive list of wines by the glass or even try a tasting flight. The children's menu has classic kids' fare and parents suggest "sticking to burgers, the raw bar and seafood dishes." Wind down the weekend with live music at the beach bar on Sunday afternoons.
Shiki Japanese Steak House, 1735 Rt. 35 North, Middletown. Many of the parents that love this place have been coming since they were kids themselves. This popular hibachi restaurant puts on a good show for the little guys and has a fun, party-like atmosphere. Kids "love watching the hibachi tricks" and "mastering the kid-crafted chopsticks." Mom faves include an "amazing rock shrimp appetizer" and "any shellfish on the hibachi." While there's a separate menu for kids, some parents "share entrees with younger ones and it's more than enough." Shiki has a full bar of Japanese beers, sakes, and wacky specialty drinks like the "Karate Punch" that really packs a, well, punch.
Murray MacGregor's Publik House, 132 East River Road, Rumson. This cozy Irish pub is a second home to many of its regulars. And given the whole pub thing, most of the food here is appealing to kids. But the little ones do get their own menu that even has some healthy side dish alternatives. Parents love the "lively and family friendly atmosphere" including "large booths that are good for corralling antsy 4-year olds." Go on Monday or Wednesday nights and kids eat free.
The Mad Hatter Pub & Pizzeria, 10 East Ocean Avenue, Sea Bright. Don't feel like cooking after a long day at the beach? This is the place to stop on the way home. The consensus is the food's good, but the ease of eating here is even better. Younger families say the back patio and tiki bar is "perfect for keeping tabs on toddlers" and often has live music. This "uber-casual restaurant" has "delicious thin crust pizza" and "killer wings," as well as family-style dishes like chicken parm and shrimp scampi. A respectable list of healthy alternatives includes a whole wheat pizza that has a loyal following of its own.
Hulafrog is the ultimate guide to local things for kids to do in the greater Red Bank area. For the inside scoop on events, classes, camps, teams & places to go around your neighborhood, go to http://www.hulafrog.com.
Read the full release on Hulafrog's website.
Start a Hulafrog in your community.
Read Hulafrog's launch release to learn how it started.
# # #