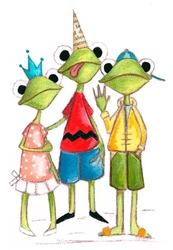 I love this idea. I have four kids and if I can get a huge discount off of their parties because I have them on a Wednesday, I'm booking them!
Red Bank, NJ (PRWEB) November 3, 2010
In a unique twist on "Cyber Monday," the busiest online shopping day of the year, moms from all over northern Monmouth County will log on to Hulafrog.com for its first annual online "flash" sale. But these moms aren't looking for a deal on Tickle-Me-Elmo, they're looking for 30%-50% off their kids' next birthday party.
Hulafrog.com, an online guide to events and activities for kids in the greater Red Bank area, will open its virtual sale doors at 9:00 AM on Monday, November 29th. Parents will log in to browse dozens of unique, one-time-only birthday packages, including complete details, photos & videos. Discounts are 30% - 50% off regular rates and guaranteed to be the best price available for a year. When a shopper sees a deal she can't refuse, she simply clicks a "Buy Now" button to book her party. The sale ends – and the deals are over – at 9:00 PM on Tuesday, November 30th.
Birthday packages will be available from all kinds of providers such as indoor play centers & gyms, arcades, sports centers, swim clubs, dance & fitness studios, arts & crafts centers, theaters, gymnastic studios, party buses, at-home entertainers, and more.
"The Flash Sale gives our local birthday businesses, many of which have struggled during the economic down turn, the chance to reach a large audience of party-buying moms all at once at the beginning of the 'indoor party' season," says Sherry Lombardi, co-founder of Hulafrog. "They can offer a great discount on a day that's usually slow to book, for example, and it helps them to secure 2011 revenue well in advance."
"We've also heard from many moms that they'd love to support their local business owners, especially since so many of them are moms themselves," added Kerry Bowbliss, Hulafrog's co-founder. "And being guaranteed the best price possible over the next year is a real incentive to do that."
"I love this idea. I have four kids and if I can get a big discount off of their parties because I have them on a Wednesday, I'm booking them. Plus, comparing so many different venues without leaving my house is a major bonus," said one local mom.
Like to win stuff? Contests and give-aways will be held during the Sale and in the days leading up to it, starting today. Everyone who registers by this Sunday, November, 7th at 12:00 midnight will be entered into a drawing for a free birthday party for 12 kids at Ricky's Candy Cones & Chaos in downtown Red Bank, a value of $266. Shoppers can register for free at http://www.hulafrog.com/sale.
Hulafrog.com is accepting businesses that would like to participate in the Sale through November 24th. Early confirmed sellers include Be Bop Parties, Ricky's Candy Cones & Chaos, Kick Fitness & Dance, Middletown Arts Center, Miss Melissa's Aardvarks, Dosil's Scuba & Surf, SNAKES-N-SCALES, Time 2 Party, Family Tree Photography, Paper Moon Puppet Theater, Gymboree Play & Music, and Bounce U.
The entry fee for businesses is $250, with a money back guarantee. If a business doesn't sell at least one deal at the sale, Hulafrog refunds 100% of the fee. Businesses can register for the sale at http://www.hulafrog.com/Sale (click on businesses link) or by calling Sherry Lombardi at (732)956-3960, x. 224.
For more information on the sale visit: http://www.hulafrog.com/sale.
About Hulafrog
Hulafrog.com Red Bank is the ultimate guide to life with kids the greater Red Bank, NJ area. For the inside scoop on local events, classes, places to go and things to do for families, visit http://www.hulafrog.com.
To start a Hulafrog near you, check out the website.
# # #