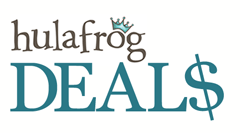 Think Groupon, but for moms. And local to the communities that our Hulafrog websites cover.
Red Bank, NJ (PRWEB) June 07, 2011
Hulafrog.com, a network of hyper-local websites with events and activities for kids, announced the launch of Hulafrog DEALS today. Hulafrog DEALS will offer major discounts from local businesses that cater to kids and families.
"Hulafrog DEALS is similar to Groupon, but much more local and just for moms," said Kerry Bowbliss, one of Hulafrog's founders. "Subscribers will get one great deal a week on stuff they can really use." Discounts of 50% and more will be available on things like dance classes, kid-friendly restaurants, amusement parks and birthday parties.
To kick off the launch, Hulafrog is donating the proceeds from its first month of deals and running a contest to let readers choose the charity. "This is a fun way for us to give back to the community and get our moms involved in the process," said Sherry Lombardi, Hulafrog's other founder. "When you sign up for Hulafrog DEALS you get to vote for your favorite charity, school, library or other cause." The organization with the most votes by July 31st wins the donation.
Hulafrog DEALS will be available this summer through Hulafrog's existing websites and newsletters in the Red Bank, Freehold and Southern Monmouth areas. Parents who subscribe will now get one deal a week in addition to Hulafrog's "Our Pick" alerts that offer details about upcoming local kids events.
Demand for deal sites, particularly those focused on niche audiences like parents, is expected to explode over the next few years. BIA/Kelsey, a media consulting firm, recently released a forecast on U.S. consumer spending on deal-a-day offers, projecting growth from $873 million in 2010 to $3.9 billion in 2015, representing a 35.1 percent compound annual growth.
Local businesses can use Hulafrog DEALS as a creative and low-risk way to bring in new customers. Business owners can learn more by calling Sherry Lombardi at (732)956-3960, x. 224.
For more information on Hulafrog DEALS and the "You Pick The Charity" contest, visit: http://hulafrog.com and click on the "DEALS" tab.
Hulafrog DEALS / Charity Contest Page
http://redbank.hulafrog.com/charitycontest
Supporting Photos & Graphics
http://redbank.hulafrog.com/Content/Press/Photos-Graphics.aspx
###