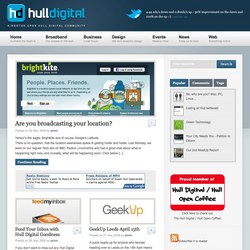 Met some useful contacts. Felt that everyone who attended was really positive about the whole MeetUp. Clearly people felt a need for this group.
Kingston Upon Hull, North Humberside (PRWEB) April 2, 2009
Hull Digital, the Kingston Upon Hull Digital Community continues to grow and had 40 people attend the latest MeetUp, meeting the needs of the innovative and creative people from the city and surrounding area.
Hull Digital
provides an online community where ideas, articles and opinions are shared. Hull Digital features:
Local online businesses and websites
Discussion of regional and national broadband and digital infrastructure
Web applications
Current web technology and what is coming in the future
Local opinion and ideas on the digital landscape
Vision of Hull as a digital city
Jon Moss, Founder of Hull Digital has been featured on BBC Radio Humberside and BBC Radio Lincolnshire where he is a regular technology commentator.
Hull Digital holds regular monthly MeetUps attracting 40 people who have welcomed the opportunity to get together: free membership is available on the MeetUp site here: Hull Digital MeetUp
The MeetUps have had a very enthusiastic response:
" Met some useful contacts. Felt that everyone who attended was really positive about the whole MeetUp. Clearly people felt a need for this group."
" Brilliant meeting, with some great speakers, who all did great especially as it was the first with speakers. Really looking forward to the next one. Excellent work to all involved. "
" Another great meet-up, many thanks to Jon for organising. A good speaker which gave an opportunity for a much needed discussion on the provision of local communication services."
"Enjoyed the opportunity to hear Richard Griffiths present a human, humble and open minded voice for the KC brand. It can only be good to engage with an interested community like Hull Digital to develop new insights into what creative solutions can be found/supported to make Hull and its Business and Residential users truly committed fans."
Richard Griffiths, the Head of Sales and Marketing for Karoo Consumer, from Kingston Communications, who recently spoke at a Hull Digital MeetUp said, "Hull Digital provides a great forum for the city's technology specialists to share ideas and build business relationships. As such it provides KC with wonderful opportunity to open up communications with our customers in order to ensure that our services meet their evolving needs. The fantastic attendance at the latest Hull Digital MeetUp shows that there is a real appetite for the digital community to work with collaboratively with KC in order to drive Hull forward as a digital city."
"We want to thank the 100 members of Hull Digital, and all the people who have attended the MeetUps and contributed to the website," said Jon Moss, Hull Digital's Founder.
About Hull Digital:
Hull Digital is the recently launched Kingston Upon Hull Digital Community which now has 100 members. The founder is Jon Moss, an online evangelist and technology correspondent, who also runs theappleofmyi.com, a marketing consultancy, specialising in online communication, customer engagement and accelerating companies profits through better web presence.
Hull Digital was set up due to the need for a digital community. Kingston Upon Hull, although being one of the UK's largest cities, had no regular gathering of the local digital community.
Contact:
Jon Moss, Founder Hull Digital
+44 7841 285 185
Email: jon (at) hulldigital (dot).com
hulldigital.co.uk
###