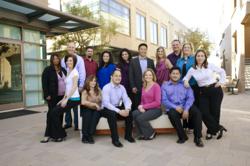 Melissa is the "Agent of Change", for bringing continuous improvement to the department.
Irvine, CA (PRWEB) November 30, 2012
Emplicity announces a new member of their team who is dedicated to making business simple.
Melissa Urcadez is Emplicity's new Human Resources Administrator and will be working with clients to provide them with online and over the phone HR outsourcing support.
As the HR Administrator, Melissa stands behind the scenes of the Human Resources Consultants, assisting in driving initiative and increasing efficiencies. Melissa is the "Agent of Change," for bringing continuous improvement to the department and effectively identifying inefficiencies. Her proactive communication and upbeat personality insures that every situation is handled with the utmost of professionalism, integrity and necessary human sensitivity.
Before joining Emplicity, Melissa served as a Human Resources Business Partner for an online marketing and advertising firm called WebVisible. There she created and published an online training resource for Managers and Supervisors, implemented incentive programs and managed various HR functions within the organization.
Melissa's driving passion and dedication to helping others has shaped a proven history of successful interaction within diverse groups of professionals at all levels. She is currently pursuing a Bachelor's Degree in Human Resources with a minor in Speech Communication from Orange Coast College, scheduled to graduate in 2014.
Adding Melissa to Emplicity's Human Resources team will ensure that their clients continue to receive the most efficient and highest level of customer service.
Emplicity was founded in 1995 in the US to provide outsourced alternatives to a traditional human resources (HR) department for entrepreneurial startups and other rapidly growing companies. Since then, the company has evolved into a turnkey professional employer organization (PEO) that supports management and labor law compliance, payroll administration, employee leasing, and employee benefits. For more information visit http://www.emplicity.com.