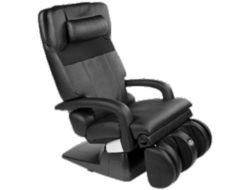 Numerous studies have shown that stress in the workplace is on the rise and its effects are costly
San Diego, SHRM Annual Conference & Expo (Vocus) June 28, 2010
Human Touch®, the U.S. market leader of innovative massage chairs, Perfect Chair® Recliners, and other wellness solutions, announces the introduction of its new Feel Better® @ Work Program at the 2010 Society for Human Resource Management (SHRM) Annual Conference & Expo in San Diego, June 27-30, at the San Diego Convention Center (Booth #3542). This new program is designed to enhance employee wellness in corporate environments by incorporating massage therapy and Human Touch® massage chairs into the workplace.
"Numerous studies have shown that stress in the workplace is on the rise and its effects are costly," said Bill Rice, Corporate Sales, Human Touch, LLC. According to the Department of Health and Human Services (among others), stress related costs to employers exceed $200 billion annually in the form of increased insurance and workers compensation costs, lower productivity, increased absenteeism, and turnover. The Feel Better® @ Work Program has been designed as a cost effective method to enhance on-site employee wellness initiatives. Regular use of Human Touch® massage chair therapy will benefit employees by delivering an enhanced sense of well being and relaxation therefore reducing stress and improving productivity."
The Feel Better® @ Work Program is a program designed to incorporate massage therapy and relaxation into the workplace environment by encouraging regular use of Human Touch® massage chairs among employees. The program's key benefits include reduced employee stress, improved productivity, reduced absenteeism, improved recruitment and retention, augmenting of existing corporate wellness efforts, and the ability to offer employees a 24/7 massage therapy benefit in the workplace.
As part of the program launch, Human Touch is looking to establish a limited number of corporate partnerships to pilot the program and validate its effectiveness. Participating employers will receive two complimentary Human Touch® massage chairs to place in their workplace setting for 90 days, during which their employees will be encouraged to use the massage chairs daily and provide feedback via surveys and interviews. After 90 days, participating companies and organizations will have the option to purchase the chairs at an exclusive, discounted rate.
Human Touch® will be offering the following massage chairs and wellness solutions through the Feel Better® @ Work program:

During the SHRM Annual Conference & Expo, Human Touch® will introduce the new Feel Better® @ Work Program to human resources (HR) decision-makers, as well as showcase its state-of-the-art massage chairs and wellness solutions in Booth #3452 at the San Diego Convention Center. The SHRM Annual Conference & Expo is the largest annual event of its kind for HR professionals.
About Human Touch®
In pushing the boundaries of its traditional massage chairs and wellness products through advanced proprietary technology and innovation, Human Touch® is focused on infusing health and wellness into everyday lives through high-quality, design-oriented and award-winning massage chairs, Zero-Gravity Perfect Chair® Recliners and other wellness products and solutions. Human Touch® has been making people feel better™ for more than 30 years by developing state-of-the-art massage and wellness products, as well as by providing valuable consumer education about the substantial health and wellness benefits of regular massage therapy, relaxation and proper posture. Stress relief, increased range of motion, pain relief, improved circulation and increased immunity are just some of the valuable health benefits associated with regular massage therapy. Human Touch® products are available at back care specialty stores, fine furniture stores across the country, through international retailers and distributors in more than 40 countries, as well as online at http://www.humantouch.com.
# # #