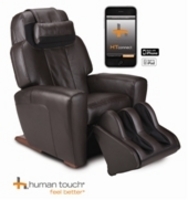 We're looking forward to showing the industry this exciting, new product, and to a very successful show.
High Point, NC (PRWEB) April 20, 2010
After a three year absence, Human Touch®, the U.S. market leader of innovative massage chairs, Perfect Chair® Recliners, and other wellness solutions, has returned to High Point Market (Apr. 17-22) in showroom location IHFC-H517 to showcase its exciting, new massage chair and wellness solution, HT-Connect™/AcuTouch™ 9500, in addition to its other state-of-the-art massage chairs and Perfect Chair® Recliners.
"High Point Market is one of the most important trade shows of the year for the design and home furnishings industry, and we are extremely glad to be a part of it," said Andrew Cohen, President of Human Touch®. "Our decision to show again at High Point Market after a three-year absence was prompted by the large, forecasted attendance among furnishings dealers and retailers at this spring's event, and the industry's enthusiastic response to our official summer launch of HT-Connect™/AcuTouch™ 9500, the first massage chair and wellness solution in history to work with the popular iPhone and iPod touch. We're looking forward to showing the industry this exciting, new product, and to a very successful show."
Available this summer as a free download from the Apple App Store, HT-Connect™ is the first wellness solution allowing users to personalize the robotic massage chair to their individual wellness needs. HT-Connect™ will interface with Human Touch's newest, most state-of-the-art massage chair, the AcuTouch™ 9500. By seamlessly interfacing with HT-Connect™, the new AcuTouch™ 9500 massage chair will be the first robotic massage chair to offer individuals a fully customized massage and wellness experience by providing instant access to a wealth of massage programs, expertise, and user-friendly applications, all at their fingertips via Bluetooth wireless connection on an iPhone or iPod touch. The AcuTouch™ 9500 will also be available for retail sale in the U.S. in June at http://www.humantouch.com or leading retailers nationwide (MSRP: $5,999).
Other Human Touch® products that are currently on display at High Point Market include:

Zero-Gravity Perfect Chair® Recliners, sleek and elegantly designed recliners that transform the body into a total state of relaxation. Featuring zero-gravity engineering, which places the body in a NASA-inspired neutral body (virtually weightless) position, allows earth's gravity to be eliminated from the body for a head-to-toe relaxation experience. In this physician-recommended posture, the spine, hip, and knee joints are on or close to the balanced midpoint of the muscles, resulting in maximum relaxation and minimum muscle tension.
HT® Massage Chairs, including the award-winning AcuTouch™ HT-7450 zero-gravity massage chair and ThermoStretch™ HT-7120 massage chair. The AcuTouch™ HT-7450 incorporates zero-gravity engineering and patented Human Touch Technology®, which replicates the personal touch of a human massage therapist, to provide the ultimate massage therapy and wellness experience behind a beautifully designed and upholstered chair. HT-7450 also includes a built-in calf massager for an invigorating calf massage. ThermoStretch™ HT-7120 is one of Human Touch's top-of-the-line massage chairs and the only massage chair in its price range to feature Massage Comfort Control. This advanced technology allows the user to electronically adjust the comfort setting of the backrest and transform this powerful massage chair into a luxurious comfortable home theater chair.
CirQlation™ foot & calf massagers, targeted-relief products designed to complement users' Human Touch® massage chair experience by providing a therapeutic foot & calf massage. All Human Touch® foot & calf massagers feature patented Figure-Eight™ Technology, which massages calves in an upward, rolling or "wave-like" fashion, forcing blood away from the feet and toward the body's core to improve blood flow and wellness.
About Human Touch®
In pushing the boundaries of its traditional massage chairs and wellness products through advanced proprietary technology and innovation, Human Touch® is focused on infusing health and wellness into everyday lives through high-quality, design-oriented and award-winning massage chairs, Zero-Gravity Perfect Chair® Recliners and other wellness products and solutions. Human Touch® has been making people feel better™ for more than 30 years by developing state-of-the-art massage and wellness products, as well as by providing valuable consumer education about the substantial health and wellness benefits of regular massage therapy, relaxation and proper posture. Stress relief, increased range of motion, pain relief, improved circulation, and increased immunity are just some of the valuable health benefits associated with regular massage therapy. Human Touch® products are available at back care specialty stores, fine furniture stores across the country, through international retailers and distributors in more than 40 countries, as well as online at humantouch.com.
###