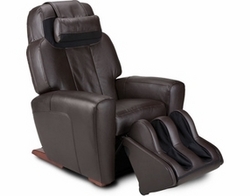 Long Beach, CA (Vocus) October 19, 2010
High Point, North Carolina (High Point Market) Human Touch®, the U.S. market leader of innovative massage chairs, Perfect Chair® Recliners, and other wellness solutions, announced that its AcuTouch™ 9500 featuring HT-Connect™ will be available for U.S. retail sale today.
The AcuTouch™ 9500 is Human Touch's revolutionary new massage chair, designed to deliver a fully personalized wellness experience via the wireless convenience of any iPhone®, iPad® or iPod® touch. It will be available for sale at leading U.S. retail locations or at http://www.humantouch.com for $5,999 MSRP.
By downloading HT-Connect™, a free app available via Apple iTunes, the AcuTouch™ 9500 allows users to instantly connect to a multitude of massage programs, customized options, wellness tips from the Human Touch® Wellness Council, and more.
According to David Potter, Vice President of Design, Human Touch, LLC, "The AcuTouch™ 9500 is the only massage chair that provides an anatomic interface between the user's needs and the advanced features of Human Touch® massage technology. Just one touch where you want to feel better and the AcuTouch™ 9500 goes to work delivering relief in as little as 5 minutes. HT-Connect™ knows who you are, what you need, and where you need it. And it happens seamlessly through a wireless, Bluetooth® connection. It's your own personal valet to feel better everywhere®."
Key features of AcuTouch™ 9500 with HT-Connect™ include:

Instant access to wellness expertise and philosophies from the Human Touch® Wellness Council: Through HT-Connect™, individuals can enjoy regular health and lifestyle tips, as well as expert-designed massage programs from Human Touch® Wellness Council members, including Chiropractors, doctors of Naturopathy, professional athletes, massage therapists, and more.
Limitless customization options: Users can download HT-Connect™ to customize their AcuTouch™ 9500 massage chair wirelessly to their own personal needs. HT-Connect™ remembers individuals' favorite settings to tailor their massage routines based on time of day.
AcuTouch™ 9500 featuring HT-Connect™ now available for U.S. retail sale
Page 2

Eight Auto-Programmed Massages Extendable to Sixteen with HT-Connect™ via any iPhone®, iPad® or iPod® touch: On the AcuTouch™ 9500 remote, select from eight massage programs, or download HT-Connect™ to enjoy 16+ expert-designed programs via any iPhone®, iPad® or iPod® touch. New massage programs are continuously being added to this wellness app and are expandable through the AcuTouch™ 9500.
Espresso Shots: Pick an Espresso Shot, short targeted massage programs, for quick and effective massage relief in just five minutes. Or if you have more time, combine three Espresso Shots to enjoy an automatic, personalized wellness solution. With your iPhone® in hand, instantly select what part of your body needs the most relief using the Espresso Shots feature.
AcuTouch™ 9500 offers many functional and aesthetically beautiful features to fit your body perfectly as well as any home décor: There are a multitude of design and functional attributes of the AcuTouch™ 9500, including Premium Aniline-dyed Leather, Acupoint® Detection System (ensures an effective and targeted massage by scanning the entire length of the back mapping key pressure points to target during your customized massage), a retractable foot & calf massager, dual-lumbar back heat, and massage comfort control (customizes the massage intensity or when in non-massage mode can create a seating experience of unsurpassed comfort and relaxation).
For more information about the AcuTouch™ 9500 with HT-Connect™, visit http://www.ht-connect.com, or to locate a participating Human Touch® retailer, visit the Dealer locator at http://www.humantouch.com.
About Human Touch®
In pushing the boundaries of its traditional massage chairs and wellness products through advanced proprietary technology and innovation, Human Touch® is focused on infusing health and wellness into everyday lives through high-quality, design-oriented and award-winning massage chairs, Zero-Gravity Perfect Chair® Recliners and other wellness products and solutions. Human Touch® has been making people feel better™ for more than 30 years by developing state-of-the-art massage and wellness products, as well as by providing valuable consumer education about the substantial health and wellness benefits of regular massage therapy, relaxation and proper posture. Stress relief, increased range of motion, pain relief, improved circulation and increased immunity are just some of the valuable health benefits associated with regular massage therapy. Human Touch® products are available at back care specialty stores, fine furniture stores across the country, through international retailers and distributors in more than 40 countries, as well as online at http://www.humantouch.com.
###