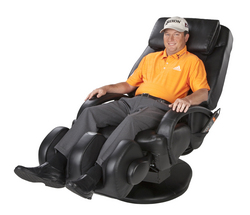 ..the biggest benefit in owning a Human Touch® chair has been that it allows me to maintain my body from home
Long Beach, CA (PRWEB) May 11, 2010
Human Touch®, the U.S. market leader of innovative massage chairs, Perfect Chair® Recliners, and other wellness solutions, congratulates its Brand Ambassador and Wellness Council member PGA Pro Tim Clark for his first PGA TOUR victory in his career at one of the biggest PGA tournaments, the PLAYERS Championship this Sunday in Ponte Vedra Beach, Fla.
During the tournament, May 6-9, Clark managed to carry out the greatest 36-hole finish in PLAYERS Championship history, shooting a flawless 67 Sunday and 66 Saturday to achieve a one-shot win over Robert Allenby. Clark was one of just two players to break 70 Sunday and was also just one of two without a bogey at TPC Sawgrass on a day the scoring average was more than two strokes over par. THE PLAYERS Championship is not only the richest tournament in golf with a $9.5 million purse; it features the strongest and deepest field all year. Clark's winning share from this victory totals $1.71 million.
"All of us at Human Touch® are so proud and excited for Tim as he achieves the most monumental victory of his career, his first PGA TOUR title," said Human Touch, LLC's Director of Product Management Andrew Corkill. "Tim is a phenomenal golfer and one of our most valued Wellness Council members. As our esteemed Wellness Council representative, he continues to be a great asset to our company by educating the 30 million recreational golfers about how incorporating regular massage and proper relaxation into their own daily lives can improve their health, wellness and focus on and off the course. Through his own experiences with Human Touch® products, he is able to expand awareness among millions of everyday consumers about the many health and lifestyle benefits offered by Human Touch® massage chairs and wellness solutions."
In his third year as a brand ambassador of Human Touch®, Clark has been actively endorsing the company's massage chairs and wellness products after experiencing first-hand the benefits that the products can provide when used daily. During his recovery from back and neck injuries in 2007, Clark routinely used his AcuTouch™ HT-7450 Zero Gravity Massage Chair and credits his speedy recovery to his ability to retreat to it on a daily basis. To this day, Clark continues to use his massage chair in his everyday life. His endorsement activities include serving as a spokesperson for Human Touch® products, contributing regularly to the Human Touch® blog, and providing counsel and expertise to the company in its North American marketing and sales strategy targeting golfers of all skill levels.
According to Tim Clark, "After helping in my recovery from a back and neck injury, the biggest benefit in owning a Human Touch® chair has been that it allows me to maintain my body from home. The chair's versatility, comfort, endless massage programs and ability to target any area of my back is great while blending seamlessly into my living room. Through the years I have used a massage therapist to maintain my body from the rigors of professional golf. Owning a Human Touch® massage chair has allowed me to get the same results in my home any time I need it, whether it's two in the afternoon or two in the morning."
About Human Touch®
In pushing the boundaries of its traditional massage chairs and wellness products through advanced proprietary technology and innovation, Human Touch® is focused on infusing health and wellness into everyday lives through high-quality, design-oriented and award-winning massage chairs, Zero-Gravity Perfect Chair® Recliners and other wellness products and solutions. Human Touch® has been making people feel better™ for more than 30 years by developing state-of-the-art massage and wellness products, as well as by providing valuable consumer education about the substantial health and wellness benefits of regular massage therapy, relaxation and proper posture. Stress relief, increased range of motion, pain relief, improved circulation, and increased immunity are just some of the valuable health benefits associated with regular massage therapy. Human Touch® products are available at back care specialty stores, fine furniture stores across the country, through international retailers and distributors in more than 40 countries, as well as online at humantouch.com.
###