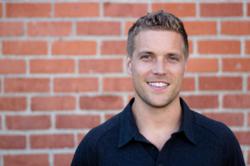 I'm thankful for Forbes recognizing HUMAN's tireless efforts in combatting the causes of obesity, as this issue needs all of the attention it can get
Los Angeles, CA (PRWEB) December 20, 2012
Forbes magazine has ranked Sean Kelly, CEO and co-founder of HUMAN Healthy Vending (http://www.healthyvending.com), as one of the nation's brightest stars under the age of 30. The only honoree from the vending industry to make the list, Kelly is featured in the Food and Wine category for his work to improve the nation's access to healthful foods and drinks via HUMAN Healthy Vending's renowned healthy vending franchises.
Forbes editors and reporters worked with panels of expert judges to choose the most entrepreneurial and creative movers and shakers under the age of 30 in 15 different categories ranging from technology to marketing. The respected panel of judges for the Food and Wine category included Randall Lane, editor of Forbes magazine, Danny Meyer, CEO of Union Square Hospitality Group and Lee Schrager, Vice President of Wine & Spirits of America.
A Johns Hopkins and Columbia University-trained biomedical engineer and nutrition-focused social entrepreneur, Kelly co-founded HUMAN Healthy Vending in 2008 with Andy Mackensen to make healthy food more convenient than junk food while turning the $42B vending industry on its head.
"I'm thankful for Forbes recognizing HUMAN's tireless efforts in combating the causes of obesity, as this issue needs all of the attention it can get," said Kelly. "This is a company-wide award, and I'm so proud of the passionate work our team performs day-in and day-out in attempts to reach our vision to 'make healthy food more convenient than junk food.' I'm humbled and ecstatic at the same time."
HUMAN Healthy Vending franchisees and partners service close to 1500 locations across America, Canada and Puerto Rico and that number is growing rapidly. Some of the most significant customers HUMAN works with include the YMCA of the USA, Austin Independent School District, Beverly Hills Unified School District, San Francisco Unified School District, Apple, and the Army & Air Force Exchange.
The complete list of Forbes' 30 Under 30 can be found online at http://www.forbes.com/special-report/2012/30-under-30/30-under-30.html.