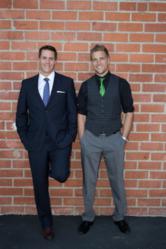 We are incredibly proud to become a Certified B Corporation since this ensures that our commitment to solving social and environmental problems is at the core of everything we do.
(PRWEB) January 09, 2013
HUMAN Healthy Vending (http://www.healthyvending.com), the nation's leading franchisor of healthy vending machine businesses, has strengthened its commitment to social and environmental stewardship by being the first in the vending industry to become a Certified B Corporation. Certified B Corporations meet high standards of social and environmental performance, transparency, and accountability. HUMAN Healthy Vending joins a proud network of over 530 Certified B Corporations from sixty industries.
HUMAN Healthy Vending received its certification this month by adding its social and environmental commitment to its corporation bylaws, which means that unlike traditional corporations, HUMAN Healthy Vending, and other Certified B Corporations, are legally required to consider the impact of their decisions on their employees, franchisees, suppliers, community, consumers, and environment. HUMAN also passed the B Corp certification criteria and performance standards, which are comprehensive, transparent and include the following categories:
Governance – an evaluation of the company's mission, stakeholder engagement, and overall transparency of the company's practices and policies.
Workers – the company's relationship with its workforce by measuring the overall work environment, as well as how the company treats its workers through compensation, benefits, training, and ownership opportunities.
Community – The company's impact on its community via supplier relations, diversity, involvement in the local community, and community service/charitable giving.
Environment – an evaluation of a company's environmental performance through its facilities, materials, resources, energy use, and emissions.
Highlights of HUMAN's social and environmental impact assessment include its 10% contribution to its nonprofit charity arm, HUMAN Everywhere – which teaches social entrepreneurship and nutrition in underserved schools – and its eco-friendly machines, which are up to 50% more energy-efficient than their counterparts.
"We are incredibly proud to become a Certified B Corporation since this ensures that our commitment to solving social and environmental problems is at the core of everything we do. Rarely do the vending industry and sustainability go hand-in-hand, but we're proud to push the envelope. We think B Corporations are the wave of the future: businesses measuring their success by the amount of good they do in the world and we couldn't be happier about this," said Sean Kelly, CEO and co-founder of HUMAN Healthy Vending.
Long term, the growth of Certified B Corporations will lead to a legally recognized new corporate form (like a C corp or an S corp) and tax incentives, procurement preferences, and a social stock exchange for sustainable businesses. Already twelve states (CA, NY, MD, VT, VA, NJ, HI, IL, MA, LA, PA, SC) have passed Benefit Corporation Legislation, and the city of Philadelphia passed a tax break for Certified B Corporations in December 2009. In April 2012, San Francisco passed legislation giving procurement incentive to Benefit Corporations in the Bay Area.
To view HUMAN Healthy Vending's impact Assessment and relevant excerpts from its governing documents, please click here. For more information on HUMAN Healthy Vending, please visit http://www.healthyvending.com.
###
About HUMAN Healthy Vending
HUMAN (Helping Unite Mankind and Nutrition) Healthy Vending's mission is to make healthy food more convenient than junk food. HUMAN accomplishes this by placing high-tech and eco-friendly vending machines that only vend better-for-you foods and drinks, including fresh produce and locally-sourced foods, in schools, hospitals, gyms and corporate locations across the world. In addition to providing healthful food options, HUMAN machines provide nutrition education via high-definition LCD screens that display streaming videos and other digital content. HUMAN currently has over 1200 machines placed across the United States, Canada and Puerto Rico.
HUMAN Healthy Vending has been ranked by Entrepreneur as one of its "Top 100 Brilliant Companies" and by Forbes as one of "America's Most Promising Companies."
HUMAN is proud to use 10% of its proceeds to fund its non-profit charity arm, HUMAN Everywhere. HUMAN Everywhere's mission is to leverage the power of social entrepreneurship to improve the nation's collective health by increasing access to nutrition education and healthful foods while advocating for public policy that contributes to these goals.
About B Corp
Certified B Corporations 1) meet rigorous standards of social and environmental performance; 2) legally expand their corporate responsibilities to include consideration of stakeholder interests; and 3) build collective voice through the power of the unifying B Corporation brand. As of December 2012, there are over 600 Certified B Corporations from over 60 industries, representing a diverse multi-billion marketplace.
About B Lab
B Lab is a nonprofit organization dedicated to using the power of business to solve social and environmental problems. B Lab drives systemic change through three interrelated initiatives: 1) building a community of Certified B Corporations to make it easier for all of us to tell the difference between "good companies" and just good marketing; 2) accelerating the growth of the impact investing asset class through use of B Lab's GIIRS impact rating system by institutional investors; and 3) promoting supportive public policies, including creation of a new corporate form and tax, procurement, and investment incentives for sustainable business.