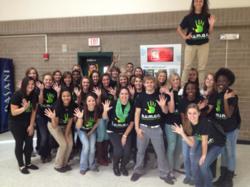 We are incredibly proud to be working with YMCA of the USA. They do so much to improve people's health and well being and we're happy to be a part of their continual progress and innovation when it comes to achieving their mission
Los Angeles, Calif. (PRWEB) January 10, 2013
HUMAN Healthy Vending (http://www.healthyvending.com) has landed a deal with YMCA of the USA, the national resource office for the nation's 2,700 Ys, to improve nutrition among individuals and families by serving as its preferred vendor for healthy vending machines in Ys across the country. HUMAN Healthy Vending, the nation's leading socially-conscious franchisor of healthy vending machine businesses, vends healthful (even farm-fresh and locally sourced) foods and beverages from its high-tech and eco-friendly vending machines.
"We are incredibly proud to be working with YMCA of the USA. They do so much to improve people's health and well being and we're happy to be a part of their continual progress and innovation when it comes to achieving their mission," said Sean Kelly, CEO and co-founder of HUMAN Healthy Vending.
Why does this matter?
Childcare providers play a huge role in shaping the way children eat, play and live. With 15 percent of preschool children receiving primary care from relatives, most preschoolers are placed in center-based care (e.g., child-care centers, preschools, Head Start programs) or a family child-care home. As of now, regulations regarding nutrition and physical activity practices in child-care settings are limited and vary widely among and within U.S. states (the regulation of formal child-care settings primarily occurs at the state level though Head Start programs, which are subject to federal performance standards).
This agreement between HUMAN and YMCA of the USA ensures that children and their families have access to healthy snacks and beverages.
What this means for HUMAN franchisees across the country:
1) Franchisees provide children and adults with convenient access to nutrition education and healthful food and beverage options
2) Franchisees have increased access to high-traffic YMCA branches in their area
3) Franchisees have increased visibility and impact in their local communities
Ys with a HUMAN Healthy Vending program will gain:
1) Healthier food and beverage options for children and families
2) Energy savings compared to traditional vending equipment
3) Wellness grants for every machine placed inside of their locations
For more information on HUMAN's YMCA Program, click here: http://www.HealthyVendingYMCAs.com
# # #
About HUMAN Healthy Vending
HUMAN (Helping Unite Mankind and Nutrition) Healthy Vending's mission is to make healthy food more convenient than junk food. HUMAN accomplishes this by placing high-tech and eco-friendly vending machines that only vend better-for-you foods and drinks, including fresh produce and locally-sourced foods, in schools, hospitals, gyms and corporate locations across the world. In addition to providing healthful food options, HUMAN machines provide nutrition education via high-definition LCD screens that display streaming videos and other digital content. HUMAN currently has over 1200 machines placed across the United States, Canada and Puerto Rico.
HUMAN Healthy Vending has been ranked by Entrepreneur as one of its "Top 100 Brilliant Companies" and by Forbes as one of "America's Most Promising Companies."
HUMAN is proud to use 10% of its proceeds to fund its non-profit charity arm, HUMAN Everywhere. HUMAN Everywhere's mission is to leverage the power of social entrepreneurship to improve the nation's collective health by increasing access to nutrition education and healthful foods while advocating for public policy that contributes to these goals.
To learn more, go to:http://www.healthyvending.com.