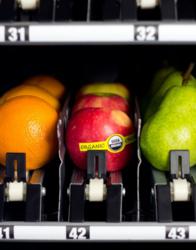 I think the USDA's proposed rules on competitive foods are an incredibly important advancement in school nutrition as a whole. We're happy to see limits set on fat, sodium and sugar
Los Angeles, Calif. (PRWEB) February 05, 2013
HUMAN Healthy Vending (http://www.healthyvending.com), an award-winning franchisor of healthy vending machine businesses, will be working directly with schools across the nation to comply with the USDA's recent landmark proposal for improving competitive foods. Competitive foods are all foods and beverages sold to students on campus during the school day, other than those meals reimbursable under federal meal programs. The proposed standards will affect items sold in vending machines, a la carte lunch lines and in student stores.
HUMAN has been pushing for new nutrition standards in schools since its inception in 2008. The company believes that this proposal – the first proposed changes to competitive food guidelines in more than 30 years – will lead to significant improvements in student nutrition and overall performance.
"I think the USDA's proposed rules on competitive foods are an incredibly important advancement in school nutrition as a whole. We're happy to see limits set on fat, sodium and sugar and think these guidelines will not only ensure students have access to more healthful options at school, but will also spark a dialogue with students about nutrition," said Sean Kelly, CEO & Co-Founder of HUMAN Healthy Vending. "HUMAN Healthy Vending franchisees and partners service over 1,000 locations across America, Canada and Puerto Rico and that number will continue to grow as legislation continues to favor more healthful vending."
With 98% of high schools having vending machines on campus, it is likely that schools will turn to healthy vending companies to provide their schools with foods and beverages that meet the USDA's proposed guidelines.
Now that the proposed rules have been published, there is a 60-day comment period during which time the USDA reads and organizes all suggestions. The rules should be finalized late this year, or early 2014, with schools likely needing to be in full compliance with them in the spring of 2015. HUMAN is recommending that schools act now to get ahead of the curve and avoid the stress of last-minute efforts to achieve federal compliance.
The primary purpose of the proposed rules is to implement the competitive-foods-focused sections of the Healthy, Hunger-Free Kids Act of 2010 (HHFKA) and to ensure that competitive foods are consistent with the most recent Dietary Guidelines for Americans, which would hold these foods to the same standards as foods sold as part of reimbursable federal meal programs.
Under the proposal, all allowable competitive foods would have to:

be a grain product that contains 50 percent or more whole grains by weight or have whole grains as the first ingredient; or
be one of the non-grain main food groups as defined by the 2010 Dietary Guidelines for Americans (DGA): a fruit, vegetable, dairy product, protein food (meat, beans, poultry, seafood, eggs, nuts, seeds, etc.); or
1) contain 10 percent of the Daily Value (DV) of a naturally occurring nutrient of public health concern from the DGA (e.g., calcium, potassium, vitamin D or dietary fiber); or 2) be a combination food that contains at least ¼ cup of fruit or vegetable.
Additionally, the specific nutrient standards would:
Set limits on calories: 200 for snacks, 350 for entrees.
Set limits on fats: total fat must be less than or equal to 35% of calories; saturated fat must be less than or equal to 10% of calories per portion as packaged; and trans fat must be 0g as stated on the label. Some exemptions apply.
Set limits on sugars: total per serving must be less than or equal to 35% of calories or less than or equal to 35% of weight. Exemptions are provided for fruits and vegetables packed in juice or extra-light syrup, dried whole fruits, and low-fat yogurt with less than 30g of sugar per 8 ounces.
Set limits on sodium: snack items shall contain less than or equal to 200 milligrams of sodium. For entrée items, sodium levels must be less than or equal to 480mg of sodium per portion for meals outside federal meal programs.
In general, the proposed guidelines would:
Encourage consumption of healthful products that have whole grains, low-fat dairy, protein (such as nuts & nut butters), fruits and vegetables as their main ingredients
Allow for water, low-fat milk and 100% juice in all schools, plus lower-calorie beverages in high schools.
Allow flexibility by permitting variations between elementary, middle & high schools when it comes to beverage portion sizes and caffeine content (i.e. caffeine, other than trace amounts from natural sources, allowed only in high schools).
Make potable water available to children at no charge in the place where lunches are served during the meal service.
Allow flexibility for occasional fundraisers and special events.
Allow flexibility for state and local communities to supplement these guidelines or maintain their own policies, as long as these proposed minimum requirements are met.
The Growth of the Healthy Vending Industry:

Vending is a large industry ($42B) with tremendous growth being seen in the healthy vending franchise sector.
Natural products are in high demand. For example, sales of healthful snacks are outpacing standard snacks by 3 to 1, according to the Snack Food Association.
Vending provides a passive income and, with remote monitoring, machine owners can check inventory from the comfort of their homes.
About $2.3 billion worth of snack foods and beverages are sold annually in schools nationwide, according to The National Academy of Sciences.
Vending machines were available in 52% of all schools and 26% of elementary schools, 87% of middle schools and 98% of high schools (Gordon, et al., 2007; SNDA-III, Volume 1, pp 102-114).
Healthy vending franchisees can work with trends, rather than against them. With the USDA's proposal, it's clear that healthy vending is not only a trend, but also something that is being legislated into society.
Healthy vending franchises are a part of the solution to improving the nation's health by making healthy food more convenient than junk food.
For more information on the USDA's proposed rules (including how they will affect the vending industry and how school locations can prepare), please click "contact" on http://www.healthyvending.com or call 310.845.7745.
###
About HUMAN Healthy Vending
HUMAN (Helping Unite Mankind and Nutrition) Healthy Vending's mission is to make healthy food more convenient than junk food. HUMAN accomplishes this by placing high-tech and eco-friendly vending machines that only vend better-for-you foods and drinks, including fresh produce and locally-sourced foods, in schools, hospitals, gyms and corporate locations across the world. In addition to providing healthful food options, HUMAN machines provide nutrition education via high-definition LCD screens that display streaming videos and other digital content. HUMAN currently has more than 1000 machines placed across the United States, Canada and Puerto Rico.
HUMAN Healthy Vending has been ranked by Entrepreneur as one of its "Top 100 Brilliant Companies" and by Forbes as one of "America's Most Promising Companies" (two years in a row).
HUMAN donates 10% of its proceeds to charities that fight the causes of childhood obesity and malnutrition, with a predominate recipient of those funds being HUMAN's non-profit charity arm, HUMAN Everywhere. HUMAN Everywhere's mission is to leverage the power of social entrepreneurship to improve the nation's collective health by increasing access to nutrition education and healthful foods.