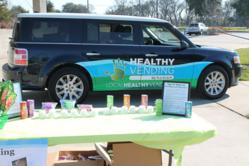 Being on the go, we realize how difficult it is to find healthy snacks. We see the need in our own community for healthier choices and we feel that we can help.
Sacramento, CA (PRWEB) May 03, 2013
Brian and Stacey Van Lente have partnered with HUMAN Healthy Vending – the nation's leading franchisor of healthy vending businesses – to ensure that the greater Sacramento community has convenient access to healthful foods and beverages. Currently, the Van Lentes have secured locations for HUMAN Healthy Vending machines in Elk Grove, and surrounding areas, at Folsom Middle and High School, Sutter Middle School, Mitchell Middle School, Folsom Parks and Recreation's "Cave" at Sutter Middle School and Folsom Middle School, Sacramento State Aquatic Center, Lincoln Law School, Boys and Girls Club-Raley Branch, McClellan Business Office, Lions Gate Hotel, and Lions Gate Convention Center.
Prompted by the lack of convenient healthful snack options available on-the-go for their two competitive-soccer-playing young boys, the Van Lentes knew they had to be the change they wanted to see in their community, so they became franchisees of HUMAN Healthy Vending.
HUMAN Healthy Vending is an award-winning franchisor of eco-friendly and high-tech healthy vending machine businesses. HUMAN's machines vend better-for-you foods and beverages, including fresh fruit, hummus and minimally-processed snack bars.
"Being on the go, we realize how difficult it is to find healthy snacks. We see the need in our own community for healthier choices and we feel that we can help," said Stacey Van Lente. "As my children get older, I want to know that they will have those healthier options locally, and that we can be a part of making that happen."
The Van Lentes' healthy vending machines in schools provide wholesome snacks that are a better alternative to the foods and drinks typically found in school vending machines.
With the USDA's recent proposal to improve the nutritional quality of snack foods sold in school vending machines, a la carte and in student stores (a.k.a. "competitive foods"), schools across the nation will be turning to healthy vending to assist them with compliance and improved student performance. The Van Lentes are positioned to provide schools with a product mix that meets the impending guidelines so that schools may painlessly make the transition.
At a time when the nation is experiencing a healthcare crisis and rising rates of chronic, and largely preventable, diseases, the Van Lentes are proud to be a part of the solution.
The Van Lentes have resided in Elk Grove for nearly two decades and are very active on the local Recreational Soccer Club Board of Directors
Interviews, Photo & Video Opportunities
The Van Lentes are available for phone and video interviews and can coordinate interviews with owners and/or management at their machines' locations. Photos, as well as video footage, of HUMAN Healthy Vending machines are immediately available upon request. The Van Lentes may be reached at (916) 585-4564 or contact Stacey at Stacey.vanlente(at)healthyvending(dot)com.
Those interested in owning their own HUMAN Healthy Vending franchise, or in having a HUMAN Healthy Vending machine at their location, may call 310.845.7745 or visit http://www.healthyvending.com.
###
About HUMAN Healthy Vending
HUMAN (Helping Unite Mankind and Nutrition) Healthy Vending's mission is to make healthy food more convenient than junk food. HUMAN accomplishes this by placing high-tech and eco-friendly vending machines that only vend better-for-you foods and drinks, including fresh produce and locally-sourced foods, in schools, hospitals, gyms and corporate locations across the world. In addition to providing healthful food options, HUMAN machines provide nutrition education via high-definition LCD screens that display streaming videos and other digital content. HUMAN currently has more than 1000 machines placed across the United States, Canada and Puerto Rico.
HUMAN Healthy Vending has been ranked by Entrepreneur as one of its "Top 100 Brilliant Companies" and by Forbes as one of "America's Most Promising Companies" (two years in a row).
HUMAN donates 10% of profits to charities that fight the causes of childhood obesity and malnutrition, with a predominate recipient of those funds being HUMAN's non-profit arm, HUMAN Everywhere. HUMAN Everywhere's mission is to leverage the power of social entrepreneurship to improve the nation's collective health by increasing access to nutrition education and healthful foods while advocating for public policy that contributes to these goals.