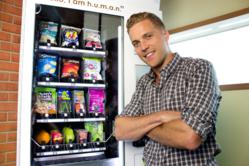 In the past, office spaces have been notorious for supplying junk-food office vending machines replete with donuts; however, healthy vending in offices is now becoming the norm.
Los Angeles, Calif. (PRWEB) June 06, 2013
HUMAN Healthy Vending (http://www.healthyvending.com), the nation's leading healthy vending franchise has announced that it has become a Preferred Vending Partner of Viverae – a national leader in health management solutions. HUMAN Healthy Vending will be working with Viverae to supply offices with healthful options, including healthy vending and micromarket solutions.
In the past, office spaces have been notorious for supplying junk-food office vending machines replete with donuts; however, healthy vending in offices is now becoming the norm. With full-time workers spending a third of their lives at the office, it is imperative that offices make healthful eating a part of the culture. Currently, HUMAN Healthy Vending has healthy vending machines placed in nearly 1,700 locations across the globe, with 300 of them being office locations. A few offices even subsidize the vending machine program, which means employers provide their employees with an allowance to be used toward vending machine purchases.
HUMAN Healthy Vending, headquartered in Culver City, Calif., places high-tech and eco-friendly healthy vending machines in corporations, schools, gyms, hospitals, government locations and community centers around the world. From their sophisticated dispensing systems that enable the machines to stock a diverse range of products to remote monitoring capabilities and touch screen technology, HUMAN Healthy Vending's machines are a far cry from the stereotypical junk-food vending machine. HUMAN's machines vend healthful snacks and beverages, including fresh fruit, snack bars and locally-sourced products.
Viverae's clients who add a HUMAN Healthy Vending program will gain:
1) Healthful food and beverage options for employees, which can be incorporated into company wellness initiatives
2) Energy savings compared to traditional vending equipment
What does this partnership mean for HUMAN franchisees across the country:
1) Franchisees provide Viverae's clients with convenient access to healthful food and beverage options
2) Franchisees have increased access to high-traffic corporations in their area
3) Franchisees have increased visibility and impact in their local communities
To learn more about HUMAN's office vending services, or to get a consultation for our new HUMAN Healthy Markets, which are self-serve micromarkets placed seamlessly into an office space, please visit http://healthyvending.com/locations/office-vending-services or call 310.845.7745.
About Viverae
Founded in 2003, Viverae (viv-AIR-ā) is a national leader in health management solutions. Dallas-based Viverae provides partners a platform to tie health behaviors to health insurance premiums, and support members with the tools and resources needed to create a healthy lifestyle. Designed to manage client programs from beginning to end, Viverae's solutions are a unique combination of comprehensive health assessments, employee incentives, creative engagement strategies and proprietary software. To learn more, visit http://www.viverae.com.
About HUMAN Healthy Vending
HUMAN (Helping Unite Mankind And Nutrition) Healthy Vending's mission is to make healthy food more convenient than junk food. HUMAN accomplishes this by placing high-tech and eco-friendly vending machines that only vend better-for-you foods and drinks, including fresh produce and locally-sourced foods, in schools, hospitals, gyms and corporate locations across the world. In addition to providing healthful food options, HUMAN machines provide nutrition education via high-definition LCD screens that display streaming videos and other digital content. HUMAN currently has nearly 1,700 machines placed across the United States, Canada and Puerto Rico.
HUMAN Healthy Vending has been ranked by Entrepreneur as one of its "Top 100 Brilliant Companies" and by Forbes as one of "America's Most Promising Companies" (two years in a row).
HUMAN donates 10% of profits to charities that fight the causes of childhood obesity and malnutrition, with a predominate recipient of those funds being HUMAN's non-profit arm, HUMAN Everywhere. HUMAN Everywhere's mission is to leverage the power of social entrepreneurship to improve the nation's collective health by increasing access to nutrition education and healthful foods while advocating for public policy that contributes to these goals.