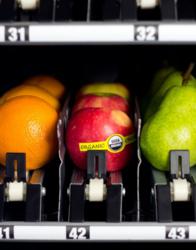 I am proud to see the USDA finally create a policy that should lead to vastly improved student nutrition across America
Los Angeles, Calif. (PRWEB) June 27, 2013
HUMAN Healthy Vending (http://www.healthyvending.com), a national, award-winning franchisor of healthy vending machine businesses, will be working directly with schools across the nation to comply and thrive with the USDA's landmark decision to improve the nutritional value of all competitive foods sold to students. This new initiative is being called "Smart Snacks in School" and is part of the Healthy, Hunger-Free Kids Act of 2010. This USDA initiative targets "competitive foods," which are all foods and beverages sold to students on campus during the school day, typically through vending machines, a la carte lunch lines and in student stores, other than those meals reimbursable under federal meal programs. Combined with the recent improvements to school lunch standards, all foods and beverages sold in schools will now be federally required to meet these new healthful nutrition standards.
HUMAN, which stands for Helping Unite Mankind And Nutrition, has been aggressively pushing for new nutrition standards in schools since its inception in 2008. The company believes that the USDA's new "Smart Snacks in School" rule, which is the first change to competitive food guidelines in more than 30 years, will lead to significant improvements in student health, happiness and overall performance – both in the classroom and on the athletic field.
"I am proud to see the USDA finally create a policy that should lead to vastly improved student nutrition across America," said Sean Kelly, CEO and Co-Founder of HUMAN Healthy Vending. "Since 2003, I have had the pleasure to work with thousands of schools across the country to improve competitive foods before there was a policy to do so and have personally seen the beneficial transformative effect that occurs when a school goes from junk-food vending to healthy vending. And contrary to popular belief, we've proved that this effect is positive for both student health and the school's financial health – it's a no-brainer."
Under the new nutrition standards, all competitive foods must:

Have no more than 200 calories for snacks and side dishes; and no more than 350 calories for entrees that are not part of the school-meal program.
Meet requirements for fat, i.e. 35 percent or less of total calories can come from fat per item as packaged or served; foods may contain no more than 10 percent of total calories from saturated fat per item as packaged or served; and they must have 0 g of trans fat per item as packaged or served. Some exceptions on the fat limits will be allowed for foods such as reduced-fat cheese and nuts.
Have no more than 35 percent sugar by weight. Some exclusions apply for fruit items.
Have no more than 230mg sodium for snacks, though this will lower to 200mg after July 1, 2016
Be either a fruit, a vegetable, a dairy product, a protein-rich food, a whole-grain-rich (at least 50% whole grains) product or a combination food that contains at least ¼ cup of fruit or vegetable. For the first two years after the standards go into effect, foods can qualify as a competitive food if they contain at least 10% of a nutrient that's been designated as public health concern for children such as calcium, potassium, vitamin D or fiber.
When it comes to beverages, all schools may sell water or carbonated water; unflavored low-fat milk; flavored or unflavored fat-free milk and soy alternatives; 100% fruit or vegetable juice. Portion sizes of juice and milk vary by the grade of students. There are additional beverage options for high school students, including lower or calorie-free beverages, however, schools cannot sell regular-calorie sports drinks.
A special exemption to the standards is allowed for foods and beverages that do not meet competitive food standards but which are sold for the purpose of conducting infrequent school-sponsored fundraisers. Exemptions are also allowed for entrees sold a la carte.
Competitive foods and beverages must meet the nutrition standards specified in the interim final rule, beginning July 1, 2014. With 98% of high schools having vending machines on campus, it is likely that schools will turn to healthy vending companies to provide their schools with foods and beverages that meet the USDA's proposed guidelines.
"While the standards will not take effect until the 2014-2015 school year, schools should begin implementation and act now to ensure a smooth transition and federal compliance," said Kelly. "At HUMAN we firmly believe schools should not have to police their vending provider, but this new legislation will require them to do so. Therefore, it's essential that schools work with a trusted, leading healthy vending provider that will police themselves, provide the school with increased commissions, and ensure the students are eating as healthfully as possible."
For more information on the USDA's proposed "Smart Snacks in School" guidelines (including how schools can properly prepare and ensure they will not suffer a loss in vending revenue), please visit http://www.healthyvendingschools.com. You can also email HUMAN at human(at)healthyvending(dot)com or call 310.845.7745.
###
About HUMAN Healthy Vending
HUMAN (Helping Unite Mankind And Nutrition) Healthy Vending's mission is to make healthy food more convenient than junk food. HUMAN accomplishes this by placing high-tech and eco-friendly vending machines that only vend better-for-you foods and drinks, including fresh produce and locally-sourced foods, in schools, hospitals, gyms and corporate locations across the world. In addition to providing healthful food options, HUMAN machines provide nutrition education via high-definition LCD screens that display streaming videos and other digital content. HUMAN currently has more than 1,500 machines placed across the United States, Canada and Puerto Rico.
HUMAN Healthy Vending has been ranked by Entrepreneur as one of its "Top 100 Brilliant Companies" and by Forbes as one of "America's Most Promising Companies" (two years in a row).
HUMAN donates 10% of profits to charities that fight the causes of childhood obesity and malnutrition, with a predominate recipient of those funds being HUMAN's non-profit arm, HUMAN Everywhere. HUMAN Everywhere's mission is to leverage the power of social entrepreneurship to improve the nation's collective health by increasing access to nutrition education and healthful foods while advocating for public policy that contributes to these goals.