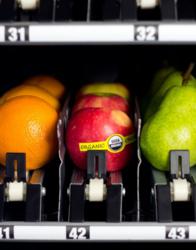 With HUMAN Healthy Vending programs providing locations with both higher profits and more healthful foods than traditional vending machines, we believe making the right choice is finally a no-brainer
Los Angeles, CA (PRWEB) September 11, 2012
Schools no longer have to choose between the health of their students and a hefty check from junk-food-vending-machines to fund cash-strapped programs and activities. HUMAN Healthy Vending (http://www.HealthyVending.com) is announcing the launch of a health and wellness grant program for schools and businesses with up to $2M available through 2015.
HUMAN Healthy Vending, the nation's leading provider of healthy vending machine franchises, will give schools and businesses up to $1,000 for each junk-food-vending-machine they replace with the HUMAN program. HUMAN's state-of-the art and eco-friendly vending machines vend healthful food and beverage options, including locally-sourced items and fresh produce. In addition to providing better-for-you options, HUMAN's programs have a history of providing locations with significantly higher annual revenue commissions than junk-food vending machines. Thus, in addition to receiving up-front grant money and healthier food and drink options, locations are also ensured of receiving higher revenue commissions for the duration of their vending contract. Healthy vending in schools has never been easier.
"HUMAN Healthy Vending's vision is to make healthy food more convenient than junk food, so we're excited to give grants to schools and businesses to encourage this new reality," said Sean Kelly, CEO and Co-Founder of HUMAN Healthy Vending. "With HUMAN Healthy Vending programs providing locations with both higher profits and more healthful foods than traditional vending machines, we believe making the right choice is finally a no-brainer. Access to convenient healthful food is really a form of preventative care."
Tomball High School is one of nearly 500 schools and 1200 locations across the nation, Puerto Rico and Canada that have partnered with HUMAN Healthy Vending to make healthy food more convenient than junk food. By removing their junk food vending machines and adding HUMAN Healthy Vending machines, Tomball High School doubled its vending machine commissions and slashed energy costs by more than eighty percent, which lead to over $10,000 in increased earnings and savings for the school.
HUMAN Healthy Vending differentiates itself from other vending companies in the following ways:

HUMAN vends better-for-you products, including locally-sourced items, fresh fruit, allergen-free snacks, organic beverages, and even healthful hot meals.
HUMAN's programs are eco-friendly, saving locations up to 50% in energy costs when compared to standard vending machines.
HUMAN's machine technology is unparalleled. HUMAN's machines have 23" LCD screens on top, which display streaming nutrition education and product information.
HUMAN creates a culture of consciousness amongst its franchisees who host nutrition education events and registered-dietitian-led workshops at each of their locations. This allows HUMAN to integrate seamlessly with schools and company wellness programs.
HUMAN strives to place machines in underserved areas, or "food deserts," so that it may create equitable access to healthful food.
HUMAN donates 10% of its profits to fund its non-profit charitable arm, HUMAN Everywhere, which teaches students in underserved schools how to be social entrepreneurs and masters of their health.
With the USDA's impending competitive foods' policy updates, schools across the nation will be turning to healthy vending to meet (if not exceed) school nutrition standards while maintaining, and often increasing, much-needed commissions.
Locations interested in HUMAN Healthy Vending's grant program for schools and businesses may visit http://www.HealthyVending.com for more information.