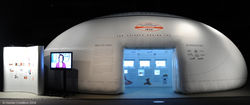 The Science Behind the Seal
Brooklyn, NY (PRWEB) October 22, 2009
Human Condition designed and produced a state-of-the-art, museum quality traveling exhibit for Good Housekeeping in celebration of the 125th anniversary of the magazine and the 100th anniversary of the Good Housekeeping Seal. The exhibit will tour cities across the U.S. and offer a multi-sensory replication of the GHRI facility and its seven labs by featuring interactive engagements, multimedia timelines, a kids' lab, full IKEA kitchen facility-and more-all housed within a first-of-its-kind 28' x 48' inflatable dome. The structure's state-of-the art design reflects the modern environmental values of the GHRI while providing a unique experience to visitors.
Inside each lab, short films featuring scientists and technicians from the GHRI accompany interactive modules that explain and demonstrate a test's methodology in addition to important data visualization.
Human Condition developed the entire tour including branding, exhibit design and fabrication, website development, and content creation as well as all logistics and venue management for the 11 city journey.
"We at Good Housekeeping were delighted to work with Human Condition to bring the Research Institute and our professional staff of chemists, engineers, nutritionists and home economics experts to life. Being able to take the depth and breadth of our 18,500 square foot laboratories to women and their families across the country further elevates our unique selling position and the science behind the Good Housekeeping Seal and the Green Good Housekeeping Seal. Human Condition was able to create an exact replica of these testing labs within a 1,500 square foot exhibit." - Pat Haegele, SVP/Publisher Good Housekeeping magazine.
The traveling exhibit, themed "The Science Behind the Seal", launched on September 26, 2009 in Tampa, FL. The tour also includes cities such as Dallas, Atlanta, Minneapolis and Chicago between September 2009 and May 2010. For more information and a tour schedule, visit Good Housekeeping on Tour.
"The design was inspired by the Good Housekeeping Research Institute, a modern testing facility with a rich history. We wanted to bring the authentic story of the Seal and labs to the public so they could see the resounding value of a century-old brand in today's economic climate. In a landscape where publications are pulling back, we were able to understand and deliver exactly what Good Housekeeping was looking to accomplish and we're honored to help them innovate in this space." - Peter E. Raymond, Human Condition President and Chief Innovator.
Human Condition, LLC is an innovation and design firm specializing in branding, media, design and emerging technologies - creating solutions that uniquely facilitate human factors with innovative concepts, products and experiences to solve modern business challenges. Examples of this innovative work such as disease state simulations, product design, theater/museum experiences and interactive/website design can be explored at Human Condition.
In addition to starting Human Condition, Peter Raymond founded ClinicsRising, an organization dedicated to bringing powerful stories of challenge and triumph from Sudan, Rwanda and other remote third world countries. To learn more, visit Clinics Rising.
For questions or more information please contact:
Ms. Mei Dickerson
or Ms. Angela Lynn
(646) 867-0644
217 Bond Street
Brooklyn, NY 11217
Human Condition
###