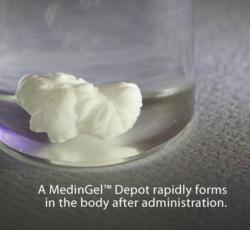 Boston, MA (PRWEB) June 14, 2012
Pain associated with arthritis can be debilitating—and current palliative treatments are not ideal for chronic treatment. "Tremendous potential exists for controlled-release arthritis therapies that can be delivered directly to the site of pain or inflammation for higher efficacy and lower systemic toxicity," explained Sebastien Enault, PharmD, Director of Strategic Licensing for MedinCell. Regarding issues with current treatments, Enault continued, "Viscosupplementation can lead to painful inflammation, opioid-based drugs may induce physical dependency, and NSAIDS can lead to severe, long-term gastrointestinal side effects."
"Encouragingly, over 50 new drug candidates are in development by pharmaceutical companies for osteoarthritis and degenerative joint disease. MedinCell has prequalified dozens of molecules as ideally compatible for reformulation with our MedinGel™ technology," Enault continued. BIO Attendees can request a One-on-One Partnering Meeting at BIO2012 with Sebastien Enault for arthritis API formulation program details.
In conjunction with commercial partners, MedinCell is designing multiple arthritis therapy prototypes targeting therapeutic durations of one-to-six months. As an injectable mixture of drug molecules and biodegradable polymers, a MedinGel product forms a 3d mesh after administration to protect drug molecules within the joint cavity until they are freed by hydrolysis. "By circumventing drug losses from systemic administration, we believe that localized delivery into joint spaces will reduce the required API required by multiple orders-of-magnitude," explained Dr. Georges Gaudriault, CSO for MedinCell.
Sebastien Enault added, "Dramatically reducing the likelihood of off-target effects should increase both treatment compliance and customer retention. Additionally, a reduced dosing frequency will minimize risk of infection, a commonly voiced clinical concern."
Dr. Anh Nguyen, Founder and CEO of MedinCell, remarked, "The CDC has estimated that direct and indirect costs of arthritis total over US$128 billion per year." The incidence of arthritic conditions is expected to climb steadily due to the prevalence of obesity and the advancing age of the US population. "With the number of knee replacements expected to quadruple by 2030, effective new drug products that preserve or restore physical mobility will have far-ranging effects on global economies," continued Dr. Nguyen.
The MedinGel platform requires no API modification, thereby allowing for an extremely rapid screening process for a wide range of molecules. "We build a tightly interconnected team with our partners," explained Dr. Nguyen. By interweaving formulation design and in vivo studies for multiple target molecules, MedinCell maximizes time-to-clinic planning and ensures that the best potential prototype is funded. "In this way, our partnerships extend far beyond the scope of most delivery companies to streamline negotiations, simplify approvals and de-risk regulatory strategies. We look forward to engaging new partners to design best-in-class products for critical, unmet arthritis needs," concluded Dr. Nguyen.
ABOUT MEDINCELL
MedinCell's controlled-release delivery platform offers wide-ranging durations—from several days up to one year—for many small molecules and biologics. Since no API modifications are required, formulation design and screening is extremely rapid. Current commercial partnerships aim to address delivery hurdles across arthritis, oncology, contraception, and HIV. Our low-cost components and manufacturing processes enables our partners to target fast-growing emerging markets. MedinCell has formulation labs in Montpellier France and San Diego, California.