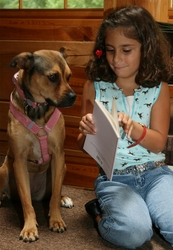 Let's Be Kind to Animals!
Washington, D.C. (Vocus) October 1, 2008
Humane Society: Youth and Humane Society University are proud to offer an online professional development program for animal care and control practitioners, teachers, informal educators, volunteers, mentors, and any individuals interested in humane education. The Certified Humane Education Specialist Program (CHES) is an avenue to help improve society by working with children, teens, school faculty, and youth leaders.
Jeffery Fessler, named the 2008 National KIND Teacher by The Humane Society of the United States, has witnessed the impact of humane education and service learning on children. His 4th grade class at U.B. Kinsey Elementary School of the Arts in Palm Beach, Florida, has consistently posted above average scores on Florida's Comprehensive Assessment Test (FCAT). Fessler's class scored 96% in 2006, compared to a state average of 65%, 80% compared to a 68% state average in 2007, and in 2008, they achieved 85% while the state averaged 70%. Fessler attributes these high scores to humane education, which he says has impacted his students in the classroom and beyond.
"Children have a natural interest in animals. When you incorporate animals into a lesson, you are peaking their interest by harvesting what they enjoy naturally. This helps them learn, and is a definite tool from an educator's perspective," stated Stephanie Clark Manager, Outreach and Training, Humane Society Youth. Clark has seen the benefits of humane education throughout her 10 years of classroom experience and explains that it can speak to a wide range of subjects. "Humane education aligns well with all subjects including language, science, and social studies. Students learn about the natural world and the importance of environment protection and preservation, and through this increased awareness, they become community activists. In addition, the psychological effects are immeasurable."
About the Certified Humane Education Specialist Program:
The Certified Humane Education Specialist (CHES) program features a choice of six self-paced courses that guide participants in conducting effective teacher in-services, exploring storytelling as a teaching device, and identifying the connections between humane education and the preschool curriculum, middle-school and high-school service learning, character education, and presentation techniques.
Previous teaching experience is not required. Participants work at their own pace, and coursework can be completed in as little as 2-4 weeks. (Courses may be taken concurrently.) CHES certification is predicated upon successful completion of four of the six courses and a final exam. Tuition is $45 per course. Dates are ongoing for coursework and registration.
The courses include:

Reach a Teacher: Forming Successful School Partnerships. Reach children through their teachers. (This course is required for CHES completion)
Rebels with a Cause: Reaching Teens through Service-Learning. Discover the importance of service learning.
Humane Education and the Magic of Stories. Learn ways of using narrative to make lessons in respect, responsibility, kindness, and caring.
Simon Says, "Let's Be Kind to Animals!" Study effective preschool presentations, activities, and tactile exercises that open young children's eyes, ears, and hearts to the needs of our animal friends.
Classroom Presentation ABCs. Approach schools, plan and schedule classroom presentations, and conduct fun-filled programs on responsible pet care for children in grades K-8.
Power in Numbers: The Basics of Forming a Youth Club. Form groups of children that raise funds, boost public awareness, and help shape public policy for animals.
For more information about Humane Society University, CHES certification and to register, visit http://www.humanesociety.org/university and follow the link on the left menu entitled "Online Degrees and Certificates."
ABOUT HUMANE SOCIETY UNIVERSITY:
Humane Society University (a non-profit organization) offers on-site workshops, on-line courses and degree programs to help volunteers and animal care workers gain the skills needed to maximize their ability to help animals. Humane Society University is the educational arm of The Humane Society of the United States. Workshops are offered on-line or at host facilities nationwide.
# # #