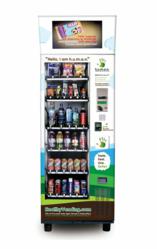 "...we can really prove that limited access to healthy, delicious and convenient food can be a thing of the past. Access is here, right now, in Katy!"
Katy, Texas (PRWEB) September 01, 2011
Insufficient and inequitable access to healthful food and health education has long been a causal link in the obesity epidemic. With a mission to end this disparity, Katy natives and residents, Matt McDonald and Robyn Smith, have recently partnered with HUMAN Healthy Vending to proffer a solution – make access to healthy food and health education the standard in schools and community centers rather than the exception.
Unlike antiquated vending machines that have long been complicit in encouraging unhealthy eating habits, HUMAN's vending machines are the first full-service vending solution offering only healthy snacks, drinks and entire meals along with health education streamed digitally via LCD screens attached to the machines. Frozen Ropes of Katy -- a baseball and softball training center – is the first location to sign with the Katy team to offer its clients these healthful alternatives. Frozen Ropes joins a successful network of nearly 750 HUMAN Healthy Vending locations across the United States and Canada.
This partnership couldn't come at a more compelling time. Texas is one of nine states in the nation that has an adult obesity rate over 30%. Additionally, childhood obesity rates in Texas recently reached the 20% mark.*
Matt and Robyn are determined to turn that around, especially in their local community. "We are committed to Katy. Matt and I both went to Katy High School – the same school my teenage daughter now attends. My dad was a Houston police officer and Matt's mom worked at the local library," said Robyn. "We both left Katy at one point – even going as far as New York – but we came back here to our roots."
For Matt, providing access to healthful food and health education is an essential part of setting an example for his daughter as well as a means to prevent others from experiencing the health-related tragedies he witnessed. "There is a history of cancer in my family and, growing up, I saw too many members of my family pass away at young ages and for preventable reasons. I am determined to prevent others from going through the heartache my family went through," said Matt.
HUMAN Healthy Vending has been setting the stage for a health-food takeover since 2003 and its founders do not take their mission to provide access to healthy food and health education lightly.
"With over 5,000 healthy products in our line-up that have been screened by an advisory board of medical doctors, certified nutritionists, registered dietitians, and public health specialists, we can guarantee our vending options will meet and exceed your nutritional guidelines, including legislative guidelines, such as the Healthy, Hunger-Free Kids Act of 2010," said HUMAN co-founder, Sean Kelly. "Our options have also been taste-tested," Sean was quick to add. "We know that providing access to healthy vending options will only succeed in building healthy habits if people actually eat and enjoy the food!"
"We are excited to be in partnership with HUMAN because their values align with ours and together we can make a positive difference in this community," said Robyn. Matt adds, "And, we can really prove that limited access to healthy, delicious and convenient food can be a thing of the past. Access is here, right now, in Katy!"
About HUMAN Healthy Vending
It is the goal of HUMAN (Helping Unite Mankind and Nutrition) to make universal access to healthy food and health education a reality. HUMAN distributes hi-tech and eco-friendly vending machines that sell 100% healthy foods and drinks. In addition to providing healthy food options, the machines provide health education via high-definition LCD screens that display streaming videos and other content. By making healthy products and healthy-living information accessible in schools, hospitals, gyms, community centers and additional public spaces, HUMAN empowers people to make healthy choices.
HUMAN is proud to donate 10% of its proceeds to charitable causes that fight childhood obesity and malnutrition. To learn more, go to: http://www.healthyvending.com
*According to data compiled by the Robert Wood Johnson Foundation and Trust for America's Health, 2011.
###