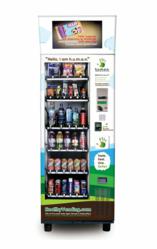 Colorado is known for its healthy and fit residents. Old vending machines are an ironic existence, and sadly, it's usually our kids that are buying from them
Boulder, CO (PRWEB) September 06, 2011
If vending machines are a sign of the times, most of them are not painting a pretty picture. Standard vending machines, even those placed in public areas meant to encourage healthy living, vend only junk food, are an eyesore, and feature technology that belongs to prehistoric times. With our political and medical leaders emphasizing the unhealthy state of the nation and naming the disparity in access to convenient healthful foods as a contributing factor to this problem, it is clear that vending machines should represent a positive sign of the future. Louisville resident and owner of Colorado Healthy Vending, John Griffin, is on a mission to replace dated vending machines with an eco-friendly, hi-tech alternative that only vends nutritional foods -- HUMAN Healthy Vending machines. Griffin is partnering with HUMAN to create healthy vending programs in Louisville, Boulder and surrounding areas.
"Colorado is known for its healthy and fit residents. Old vending machines are an ironic existence, and sadly, it's usually our kids that are buying from them," said Griffin.
Griffin is not alone in this sentiment, as the City of Boulder has also announced that it intends to replace its junk food vending machines with healthier options within the next year.
Unlike antiquated vending machines that have long been complicit in encouraging unhealthy eating habits, HUMAN's vending machines are the first full-service vending solution offering only healthy snacks, drinks and entire meals along with health education streamed digitally via LCD screens attached to the machines. Erie Community Center has signed with Griffin to offer its clients these healthful alternatives; it joins a successful network of over 750 locations across the United States, Canada, and Puerto Rico, including several locations in Denver and surrounding areas, such Cherry Creek High School, Arapahoe High School, Options High School, Grandview High School, Falcon Creek Middle School, Liberty Middle School, Thunder Ridge Middle School and Castle Rock Adventist Health Campus.
Griffin is determined to set a positive example for his daughter and the children in his community.
"As an adult, I became truly conscious of how food was fuel. And, as a father, it is essential that I set a positive example for my daughter so that she knows eating healthy foods and being active set the stage for a fun and healthy life," said Griffin. "Without your health, you have nothing."
Inspired by HUMAN's charitable giving (HUMAN donates 10 percent of its proceeds to charities that fight obesity and malnutrition), Griffin is earmarking a percentage of proceeds from his HUMAN machines to fund the nonprofit he founded: The Treehouse Camp – a summer camp for children who have been victims of sexual abuse.
HUMAN has over 5,000 healthy products in its line-up that have been screened by an advisory board of medical doctors, certified nutritionists, registered dietitians, and public health specialists, so they can guarantee their vending options will meet and exceed schools' and cities' nutritional guidelines, including legislative requirements delineated in the Healthy, Hunger-Free Kids Act of 2010.
"I am really excited about this partnership with HUMAN," said Griffin. "I believe that making healthy food fun and convenient is an essential component to encouraging healthy behaviors in kids and adults alike."
Griffin currently has a machine on display for interested parties located at the DaVinci Institute's, "The Vault," a co-working space in Louisville.
If you are interesting in learning more about HUMAN, or in facilitating a free healthy vending program in your location (worth $10,000), please visit http://www.healthyvending.com.
About HUMAN Healthy Vending
It is the goal of HUMAN (Helping Unite Mankind and Nutrition) to make universal access to healthy food and health education a reality. HUMAN distributes hi-tech and eco-friendly vending machines that sell 100 percent healthy foods and drinks. In addition to providing healthy food options, the machines provide health education via high-definition LCD screens that display streaming videos and other content. By making healthy products and healthy-living information accessible in schools, hospitals, gyms, community centers and additional public spaces, HUMAN empowers people to make healthy choices.
HUMAN is proud to donate 10 percent of its proceeds to charitable causes that fight childhood obesity and malnutrition. To learn more, go to: http://www.healthyvending.com
###