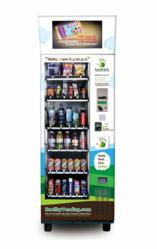 At Orchard Park Middle School, we strive to educate our students for life. We accomplish this not only by providing them with a high quality education, but also with access and awareness of healthy choices that they can make on a daily basis.
Buffalo, New York (PRWEB) September 09, 2011
Husband and wife team Jon and Jennifer Corto know that it is not just football players who need to eat and live healthy – they believe everyone should, especially the nation's children who are increasingly facing health problems as a result of junk food consumption and sedentary lifestyles. In fact, New York alone has a childhood obesity rate of 17%.
The Cortos are tackling this challenge head on by adding social entrepreneurship to their resumes and partnering with HUMAN Healthy Vending to make access to healthy food and health education the standard in schools and community centers, rather than the exception. Unlike antiquated vending machines that have long been complicit in encouraging unhealthy eating habits, HUMAN's vending machines are the first full-service vending solution offering only healthy snacks, drinks, and entire meals, along with health education streamed digitally via LCD screens attached to the machines. HUMAN's machines are also eco-friendly in that they use up to 50% less energy than standard machines and feature remote monitoring (an operator can get text messages and online notifications about which foods are low in inventory and which foods are near their expiration dates), credit card capabilities, and a conveyor belt system rather than old-school coils.
Orchard Park School District has taken the lead in signing with the Cortos and implementing HUMAN machines on their campuses. Orchard Park Middle School will launch their HUMAN machines during their Wellness Day on Tuesday, Sept. 13th. During lunch, between 10:30 a.m. and 1 p.m., the students will have a chance to sample products in HUMAN's healthy line-up (donated locally by Sam's Club, Pop Chips and Pirates Booty) and get autographs from Buffalo Bills players. Orchard Park High School will launch its machines during spirit week festivities beginning on Monday, Sept. 26th.
Orchard Park Middle School Principal, David Lilleck, comments, "At Orchard Park Middle School, we strive to educate our students for life. We accomplish this not only by providing them with a high quality education, but also with access and awareness of healthy choices that they can make on a daily basis. We are proud to partner with HUMAN Healthy Vending to help us accomplish this goal and we look forward to providing our students with many healthy options."
Jennifer Corto is optimistic that healthy vending is part of a solution that enables people to live healthily in today's fast-paced world. "People live their lives on-the-go. Schedules are hectic; between work, school, sports, and day-to-day chores, it is hard to find time to stay healthy. Workplaces are becoming more conscious of this fact and providing employees with more opportunities to workout and make time for work/life balance. Schools are now moving in the same direction," said Corto. "Healthy snacks and drinks go hand in hand with these efforts. Providing healthy options in vending machines not only allows for convenience but also lets you feel good about what you are eating and drinking throughout the day," she added.
HUMAN has over 5,000 healthy products in its line-up that have been screened by an advisory board of medical doctors, certified nutritionists, registered dietitians, and public health specialists, so they can guarantee their vending options will meet and exceed schools' and cities' nutritional guidelines, including legislative requirements delineated in the Healthy, Hunger-Free Kids Act of 2010.
So what does it really mean to be H.U.M.A.N? The acronym stands for Helping Unite Mankind and Nutrition. By making healthy food and drinks, and health education, universally accessible, HUMAN Healthy Vending believes they can help foster a health revolution that will improve the lives of people across the globe. The Cortos believe in this mission, and as partner vendors with this company, they are inspired to spread the goals of HUMAN throughout the Western New York region.
About HUMAN Healthy Vending
It is the goal of HUMAN to make universal access to healthy food and health education a reality. HUMAN distributes hi-tech and eco-friendly vending machines that sell 100% healthy foods and drinks. In addition to providing healthy food options, the machines provide health education via high-definition LCD screens that display streaming videos and other content. By making healthy products and healthy-living information accessible in schools, hospitals, gyms, community centers and additional public spaces, HUMAN empowers people to make healthy choices.
HUMAN is proud to donate 10% of its proceeds to charitable causes that fight childhood obesity and malnutrition. To learn more, go to: http://www.healthyvending.com/
###