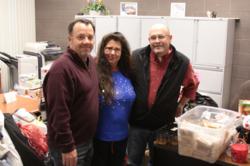 There are five thousand kids in the valley that are homeless and we knew we had to do something about it now -- so we started Project 150
Las Vegas, Nevada (PRWEB) December 23, 2011
With the glitz of the Las Vegas strip lined with tinsel and wreaths, it may be easy to forget the grim reality: according to Clark County Homeless Youth Count, on any given day nearly 400 unaccompanied minors live on the streets in Clark County, 150 of whom are students at Rancho High School. Local business owner Ward Peterson of Trio Healthy Vending – distributor of HUMAN Healthy Vending machines – and the charitable Project 150, however, have not forgotten. Instead, they have joined together to ensure that homeless students in Clark County have their basic needs met while school lets out for winter break. Project 150 and Trio Healthy Vending's mission is to aid the homeless students in the valley, particularly in the "homeless corridor," where the poverty rate is 26.8% -- more than double the rate of Las Vegas, according to 2009 city data.
Project 150 is a 501 (c) (3) Charitable Trust set up by Patrick Spargur, who works with Bally Technologies Inc., and Don Purdue, a project manager with Harmony Homes, which is the company that is underwriting the charity. When Spargur heard from Purdue about the situation at Rancho High School, he could not believe it. "I thought: this is not possible; if you're homeless, you don't go to school. I dug in and found out that these students were sleeping in cars and couch surfing. There are five thousand kids in the valley that are homeless and we knew we had to do something about it now – so we started Project 150," said Spargur.
After a few Facebook posts exchanged between Spargur, Purdue and Peterson, they had started an online campaign that went viral. Within a week, alumni from Ed. W. Clark High School, Las Vegas (Spargur and Purdue's alma mater) were coming out of the woodwork to donate. Donations have been valued at more than $10,000.
Because Rancho High School is located in a food desert – an area where there is little access to any food other than fast food – its homeless students are reliant on the cafeteria to provide healthful options. While school is let out for winter break, however, these students would have to fend for themselves. Peterson made it his personal mission to ensure students had access to healthful foods until school resumed, so he reached out to healthy-food companies who have partnerships with HUMAN Healthy Vending and received generous donations from Clif Bar, Mix 1, That's It Fruit Bars and WAT-AAH.
"With the recession, Clark County has seen a drastic increase in its homeless population, so many of whom are minors. We wanted to make sure they had some healthy food options to tide them over until school starts up again," said Peterson, CEO of Trio Healthy Vending. "And this is just the beginning for Project 150 – we're going to do a lot more in the new year."
Those interested in making donations to Project 150 or to Rancho High School's homeless students directly, may contact Patrick Spargur at pspargur(at)ballytech(dot)com or Don Purdue at dpurdue(at)harmonyhomes(dot)com.
About Trio Healthy Vending
Trio Healthy Vending is a Las Vegas distributor HUMAN Healthy Vending machines – the world's first and only high-tech and eco-friendly vending machines that vend nutritious foods while simultaneously educating the consumer on nutrition via 23" LCD screens attached to the machines. In Las Vegas alone, HUMAN machines are currently operational at DeVry University in Las Vegas, Paul Mitchell School of Las Vegas, YMCA of Southern Nevada and Le Cordon Bleu College of Culinary Arts. HUMAN Healthy Vending machines may be found in 800 locations across the United States, Canada and Puerto Rico.
In 2011, HUMAN Healthy Vending was named in Entrepreneur Magazine's list of "100 Brilliant Companies" and Forbes Magazine's list of "America's Most Promising Companies."
HUMAN is proud to donate 10% of its proceeds to charitable causes that fight childhood obesity and malnutrition. To learn more, go to: http://www.healthyvending.com
###