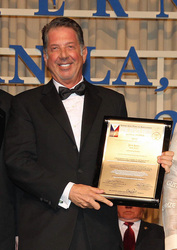 Global Village Champions has become the undisputed world leader in private humanitarian aid.
Manila, Philippines (PRWEB) November 30, 2010
Yank Barry, chairman of Global Village Champions Foundation, today was awarded the 2010 Gusi Peace Prize for International Humanitarianism and Philanthropy.
"Global Village Champions has become the undisputed world leader in private humanitarian aid," Mr. Barry said in receiving the award. "From the refugee camps in Ethiopia, to the exiled children in Liberia and Cote d"Ivoire, to orphanages in Morocco, to tsunami victims in Indonesia, to war-torn Sudan and, most recently, to the earthquake victims in Haiti, we will continue delivering food, water, medical supplies, crutches and wheelchairs wherever the need is and wherever the call is."
The Gusi Peace Prize is given annually pursuant to a decree of former Philippine President Gloria Macapagal-Arroyo, whose second term ended June 2010. This year's prize ceremony took place at the Philippine International Convention Center before an audience of more than 10,000 diplomats, government officials, business leaders, artistic celebrities, civic activists and educators.
Mr. Barry, 62, is the first Canadian recipient. In 1990, Mr. Barry developed VitaPro, a multinational distributor of soy-based meat replacement products. He created Global Village Champions as VitaPro's philanthropic arm several years later, and with his Global Village Champions -- most notably, his close friend and three-time world heavyweight boxing title-holder Muhammad Ali -- has traveled to virtually every corner of the world to deliver 420 million free meals to the most needy and desperate. Its goal is to deliver a total of one billion free meals by the end of 2013.
In honor of the Gusi Foundation and its leader, Ambassador Barry Gusi, Mr. Barry and Global Village Champions donated one million free meals for poor children in Philippines. "There is no shortage of food in the world," Mr. Barry told the ceremony audience. Rather, market and political forces conspire to deny equitable distribution of food to those who need it most. "No one should go hungry in our world," he declared.
Prior to VitaPro, Mr. Barry enjoyed a 30-year career in the music industry as a singer, composer, arranger and producer, working with artists as diverse as The Kingsmen, Gary U.S. Bonds, Ben E. King, Charlie Rich and Engelbert Humperdinck. A native of Montreal, he also enjoyed success in the field of advertising jingles, including those for Kellogg's Raisin Bran, Dr. Pepper, Kodak, Red Lobster and General Motors.
Mr. Barry and Global Village Champions were among the very first aid workers to reach Port-au-Prince, Haiti, following the devastating earthquake there in January 2010. Chartering private planes from Nassau, The Bahamas, Mr. Barry personally accompanied donation shipments of food, water, clothing and medical supplies to make-shift hospitals and damaged orphanages in coordination, most notably, with the Haiti Disaster Relief team, the Haitian Red Cross, the Haitian Rotary Club, The Bahamas Red Cross and the Seventh Day Adventist Hospital.
Eighteen other leaders from across the globe also received awards in their respective specialties notably Dr. Michael Nobel of Sweden pictured in the accompanying photo with Yank and Yvette Barry for the area of Education & Humanitarianism.
For additional information: Kevin Rath at (305) 400-0415 or kevinr(at)globalvillagechampions(dot)org or visit our website at http://www.globalvillagechampions.org
Global Village Champions Foundation
3430 Poinciana Avenue
Miami, FL 33133
(305) 400-0415
Fax: 442-8297
http://www.globalvillagechampions.org
###