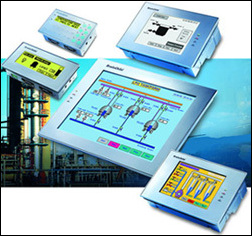 Our Paperless recorder is highly recommended in terms of its huge storage memory and high visualization 6.4-inch display. The screen resolution of 640x480 pixels is four times better than competitors
(PRWEB) August 6, 2007
Brainchild has advanced to become Human Machine Interface (HMI) professional.
Now, Brainchild is the first Paperless recorder manufacturer in Taiwan.
Offering well integrated products to streamline customers' production process, Brainchild is devoted to not only inventing various temperature controllers, but creating the first Paperless recorder. Recently, it progressed to Human Machine Interface manufacturing and goes forward to seek more overseas markets.
Brainchild was established in 1977 as the largest manufacture of Temperature controllers , as much as Limit controllers, GSM controllers and Power managers , it developed the first Paperless recorder four years ago to meet more customers' needs. As a further increase of Human Machine Interface (HMI) demands, Brainchild also strives for HMI production to the best.
Over ninety percent of their products are exported, Brainchild has marketed to more than seventy countries including Europe, America and Asia. Its services across various industrials, such as chemical engineering, semiconductor component manufacture, food processing, electronic. Brainchild carries out fifty percent of the original design manufacturing (ODM) and own-brand production for the rest.
For high quality products assurance, all products are manufactured under ISO9001 control system and approved with CE, CSA, UL, cUL, Factory mutual (FM) certificates.
Human Machine Interface (HMI) was introduced in 2006, Brainchild's HMI with high compatibility and IP65 standard effectively improves facility management. "User friendly and easy to control is what we are concerned with in HMI design," the Sales Director Henry Lin said. As a result, Brainchild has engaged in HMI configuration software invention for PLC support, its HMI directly connects to temperature controller via Modbus RTU.
In order to serve customers better, Brainchild also develops various types of I/O modules, such as AI, AO, DI, DO, RTD. These modules can support versatile applications using the same utility software and work with SCADA, PLC and HMI.
As Mr. Lin said, "Many users purchase software and hardware from different suppliers, which is costly and can easily cause conflict reconciliation problems. We provide customers a whole set of devices from I/O modules to HMI to avoid this trouble."
Different from other traditional paper recorders, Brainchild Paperless recorder saves a fortune in printing and paper. It also efficiently collects massive data with eighteen analog input channels to Central-controlled System through Ethernet and R485 network. "Our Paperless recorder is highly recommended in terms of its huge storage memory and high visualization 6.4-inch display. The screen resolution of 640x480 pixels is four times better than competitors," Mr. Lin said. Brainchild Paperless Recorder also features plug-in design for IO card without case opened.
To provide high-accuracy Temperature controller, Brainchild has brought efforts to optimize its Fuzzy self-tuning of PID control, the system eliminates overshooting and reduces oscillation in response to the setting temperature changes.
"We do maintain high commitment to serve system for the benefit of customers. Whenever the customers confront difficulties in using our products, we'll assist our customers to remove or solve the problems in time," Mr. Lin said. Every customer is well-supported by an assigned engineer on line for technical consultation.
Through over twenty years development,Brainchild has attended many international trade shows such as ISA EXPO 2006 and HANNOVER MESSE 2007. It also creates a breakthrough in business to meet more local agents in domestic trade shows, "With the strength of highly compatible and flexible products, we are ready to meet more customers in North Europe this October and East Europe and Russia next year," Mr. Lin said in confidence.
Brainchild's strength
Having worked with the second and third biggest heater manufacturers in United Sates, Mr. Lin said, "Customers rely on us because we make a lot of efforts to improve effectiveness of production process. With all compatible configuration software, our products include basic I/O modules, measurement equipment such as Temperature controller, Limit controller and Power manager, and integrated Human Machine Interface. It definitely saves the budget and time."
Reference: Sales Director Henry Lin.
Slogan: Pursue perfection through continuous improvement
Contact Details:
Address: 6F, No. 209, Chung Yang Road, Nan Kang Dist Taipei, 115 Taiwan
Tel: 886-2-27861299
Fax: 886-2-27861395
E-mail: sales @ brainchild.com.tw
###w