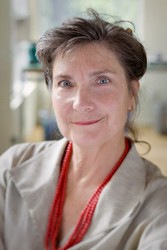 I love the pithiness. The writing is colorful, evocative and gets to the point, despite writing about ideas that are sophisticated and complex. The storytelling feels organic and rings true…
Atlanta, GA (PRWEB) September 22, 2008
Practicing leadership is not an easy task - and will not get any easier during challenging economic times. The new blog, Leading-Workplace-Change written by noted organizational culture expert, Terri Kruzan is a free tool for human resource professionals to complement their management development offerings for leaders.
In the blog, Ms Kruzan takes events in the news and everyday experiences in the workplace and uses them to explain difficult and complex leadership skills to assist people and organizations adapt to change. Her short posts are similar to mini case studies, providing humorous insights and concrete examples of how to mindfully manage organizational cultures to better meet business objectives.
The idea of using blog technology as a leadership development tool evolved through Ms Kruzan's work in change management. She realized that a blog is a way to privately and consistently reach people to support them in a change management effort. She understands the power of stories to motivate people and keep them engaged in a long-term process.
For example, a recent series of posts in her blog are about the dynamics of political campaign staffs as organizations. In Culture of Presidential Campaign Staff Ms Kruzan illustrates leadership techniques and provides insights regarding the power of founding leaders in creating the culture of their organizations.
One regular reader of the blog - Steven King, Branch Manager of Cloverleaf Financial Group reported - "I love the pithiness. The writing is colorful, evocative and gets to the point, despite writing about ideas that are sophisticated and complex. The storytelling feels organic and rings true…"
Another example of a post is about generational differences in the workplace - These folks are not willing to pay their dues where Ms Kruzan talks about the importance of focusing on requirements rather than preferences when managing people. The blog posts in Leading-Workplace-Change cover a wide variety of topic areas to provide leadership development stories to meet a broad range of adult learning needs.
For additional information on how to use Leading-Workplace-Change blog in your human resource and leadership development offerings for managers or to receive blog alerts for new posts, contact Terri Kruzan or visit her firm website at http://www.cultureconsult.com
About Culture Consulting, Inc:
Atlanta, Georgia-based Culture Consulting, Inc. is a nationally recognized expert in supporting leaders, managers and consultants in aligning and integrating the culture of organizations to gain a source of competitive advantage. Our unique expertise is in helping leaders develop concrete skills and the knowledge necessary to manage organizational culture to improve employee morale and implement business strategies.
###