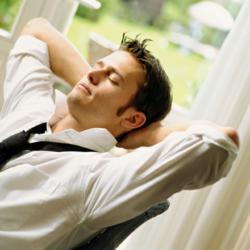 Long Beach, CA (PRWEB) June 15, 2011
In honor of National Men's Health in June, Human Touch®, the U.S. leader of massage chairs, Perfect Chair® recliners, and other wellness solutions, is pleased to partner with the Men's Health Network (MHN). MHN is a non-profit organization dedicated to reaching men and their families with health prevention messages and tools, screening programs, educational materials, advocacy opportunities, and patient support.
Please join Human Touch® and MHN on Facebook and Twitter to get connected and participate in an informative and interactive conversation about the health and wellness issues affecting men, ranging from fitness and diet, to stress reduction strategies, as well as common health conditions and diseases affecting men, such as chronic back pain, heart disease, and hypertension. Highlights will include health strategies and tips for men from Human Touch® Wellness Council experts, including PGA Golfer Tim Clark, former NBA champion Bill Walton, fitness trainers, chiropractors, massage and aromatherapy experts, and more. Learn more about the Human Touch® Wellness Council here.
"We are pleased to collaborate with Human Touch® to help spread awareness about National Men's Health Month in an effort to empower men across the country and the world to achieve a healthier lifestyle through preventative measures, such as regular exercise, proper diet, stress reduction strategies, and early detection of common health conditions and diseases," said Scott Williams, Vice President of Men's Health Network.
David Wood, CEO of Human Touch, LLC, added, "Medical research shows that stress can contribute to a number of common and serious diseases and conditions affecting men, such as high blood pressure, heart disease, diabetes, and even prostate cancer. Therefore, we believe it is part of our corporate responsibility to help educate men and their loved ones about the importance of incorporating regular massage therapy and proper relaxation into their daily lives."
Human Touch® is also running a contest through Father's Day with The Deal Scoop, whereby one lucky winner will get an iJoy®-2310 Robotic Massage Chair as a great gift for dad. The winner will be chosen at random and announced on Father's Day via the Facebook pages of Human Touch and The Deal Scoop. To enter, just "Like" Human Touch on Facebook and become a follower on Twitter @HTFeelBetter. Visit TheDealScoop.com for contest details and to enter to win, as well as for details on other Human Touch® giveaways taking place throughout the month.
About Human Touch®
In pushing the boundaries of its traditional massage chairs and wellness products through advanced proprietary technology and innovation, Human Touch® is focused on infusing health and wellness into everyday lives through high-quality, design-oriented and award-winning massage chairs, Zero-Gravity Perfect Chair® Recliners and other wellness products and solutions. Human Touch® has been making people feel better™ for more than 30 years by developing state-of-the-art massage and wellness products, as well as by providing valuable consumer education about the substantial health and wellness benefits of regular massage therapy, relaxation and proper posture. Stress relief, increased range of motion, pain relief, improved circulation and increased immunity are just some of the valuable health benefits associated with regular massage therapy. Human Touch® products are available at back care specialty stores, fine furniture stores across the country, through international retailers and distributors in more than 40 countries, as well as online at http://www.humantouch.com.
###