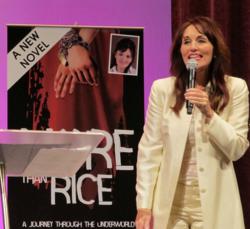 As I traveled to India and SE Asia and saw what was happening and KNEW I HAD to do SOMETHING, now God is using my book to impact lives everywhere! EVERYONE can do SOMETHING!
Tulsa, OK (PRWEB) May 12, 2012
That's no surprise - human trafficking, even in the United States, has hit the headlines recently.
In November, a mom was charged with human trafficking for forcing her own child into prostitution.
In Ohio, the state released statistics showing 1,000 children are forced into the sex trade there every year.And last year, a US envoy linked the lousy economy to greater desperation which can lead to human trafficking.
None of this is news to Pamala Kennedy Chestnut who just wrote More than Rice from M3 New Media. Her novel is about putting a face to the gut-wrenching tragedy of the 3 million women and children that are abducted every year and sold into human trafficking. More than Rice gives the reader an up close and personal look into this dark world of girls between the ages of twelve and seventeen, stolen and forced to work in brothels.
Kennedy Chestnut's new novel may be fiction, but it is a riveting story that can introduce anyone to the causes and consequences of human trafficking.
Kennedy Chesnut thoroughly researched the horrors that human trafficking brings upon its victims. She is available for interviews to discuss human trafficking, to talk about her book and - importantly - what people can do to stop it.
Be among the first to catch on to this trending topic and share it with your audience.
To request a review copy of this book, or to schedule an interview with the author, please fill out this quick form at M3 New Media now.
About Pamala Kennedy Chestnut
Pamala Kennedy Chestnut has been involved in speaking, mentoring and coaching young women for 30 years. She has also been a writer during that time, with her first title Where Have All the Lovers Gone? released in 1990. On deciding to write this book, Kennedy Chestnut said, "I feel it would be a moral failure to turn a blind eye to the growing scourge of human trafficking – not just around the world – but right under our own noses."