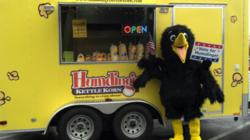 We hope to create at least three new jobs by the end of 2014.
Portland, Oregon (PRWEB) November 17, 2012
Humdinger Foods was selected as one of 10 finalists for the Small Business Challenge, a national job-creation competition. Beating out over 1,000 small-business applicants from around the country, Humdinger Foods is now representing the Portland area as a finalist and hopes to win the online voting contest, which opens today. There is a total of $50,000 in prize money at stake.
The Small Business Challenge was started by Early Shares, Inc. – an equity-based online crowd-funding platform based in Miami, Fla. – with the mission of stimulating job creation in America by awarding the top three small businesses with cash and an advertising credit.
Humdinger Foods, a kettle corn and popcorn maker with its roots in the Portland farmers-market scene, was selected as a finalist by a panel of experts, based on accrued online votes and potential for job creation.
Humdinger is looking to bolster production with newly acquired, used packaging equipment, which will diversify its operation by packaging products for wholesale distribution. The updates will expand the company's popcorn sale fundraising programs to a broader array of non-profits. Plans are also in the works to open a processing facility with a fixed-location storefront in the Portland area.
"If we win the Small Business Challenge," says Susan Buchanan, co-founder of Humdinger Foods, "the cash award will be used to buy new used equipment that will help us support non-profit groups reach their fundraising goals more efficiently. We hope to create at least three new jobs by the end of 2014."
The next step in the contest begins today: online voting for the ten finalists opens at 2:01 p.m. Pacific Standard Time (PST) and closes on November 23, 2012, at 8:59 p.m. PST. To vote for Humdinger Foods, go to http://www.smbchallenge.com.
About Humdinger Foods
Humdinger Foods got its start in 1998 selling kettle corn at a local Portland area farmers' market. From there they expanded to corporate events and concession services. Their next big expansion came in 2006 when they began packaging product for corporate gift-giving. An expanding flavor line-up includes traditional Sweet & Salty, alongside more innovative flavors like Sweet Onion, Chili Lime, and Tomato Basil.