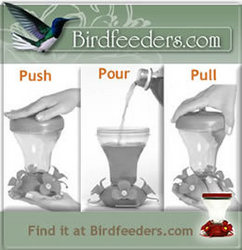 Lititz, PA (Vocus) February 6, 2009
Garden Song® - the well-known bird feeder brand for its collection of functional, value-priced bird feeders, launches its patent-pending "Push-Pull" technology in three of its new "Top-Fill" hummingbird feeders.
The new "Push-Pull" function delivers a simple direction for opening and closing these hummingbird feeders, while the innovative "Top-Fill" system addresses concerns about filling and cleaning the feeder by providing an exclusive design. The "Top-Fill" design allows these hummingbird feeders to be filled from the top instead of the more traditional bottom fill models.
Push – Pour – Pull
Here's how it works, simply push the hummingbird feeder into the base, unscrew the cap, fill the feeder with nectar, replace the cap, pull the feeder from its base, and the feeder is ready to go!
The Primrose and Magnolia, both 20-oz. capacity hummingbird feeders, along with the 16-oz. Aster hummingbird feeder are the three new Garden Song® brand "Top-Fill" designs with the patent-pending "Push-Pull" technology now available at birdfeeders.com
For more info, please visit:
Garden Song® Magnolia Top Fill Hummingbird Feeder with Push-Pull Technology
Top-Fill Hummingbird Feeders
Birdfeeders.com
The Garden Song® brand is a registered trade mark of Woodstream Corp.
About Garden Song®
The Garden Song® brand is well-known for its collection of functional, value-priced feeders with contemporary style, offering several options to meet the needs of the beginning hobbyist.
About Woodstream Corp:
Woodstream Corporation is a long-standing, privately held company and a leading manufacturer and marketer of quality-branded wild bird feeders, rodent control products, caring control products for pets and wildlife, decorative garden accents & natural solutions for lawn and gardens.
In the wild bird feeder category, Woodstream Corp is the market's leader offering the broadest and deepest set of quality products in the industry at competitive prices. The Woodstream portfolio of brands includes Perky Pet®, Birdscapes®, Garden Song® and Avant Garden® to meet the needs of consumers nationwide.
###