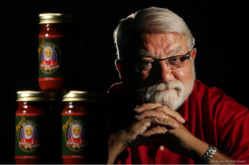 "Nobody has three or four hours to cook a meal anymore and the generation that knows how to make paprikash won't be around forever. I think I'm helping to preserve the heritage of the dish."
Cleveland, OH (PRWEB) November 22, 2011
The Hungarian-born Joseph Bancsi, who has lived in Cleveland for more than 30 years, has created Jozsef's Premium Paprikash Simmer Sauce. An authentic paprika-based product made with onions, yellow wax peppers, garlic, extra virgin olive oil and other spices. The simmer sauce replicates an award winning chicken paprikash recipe passed down from his father.
The paprikash simmer sauce is being sold in ethnic and specialty stores, at Heinen's, a regional grocery store chain, and nationally on PaprikashSauce.com. It is also being served to students in a Cleveland suburban school district as well as to residents in nursing and assisted-living homes. Future plans include entering the collegiate food service market, adding to the product line and expanding into new markets.
"Chicken paprikash was one of my favorite dishes growing up and I hope the sauce's new-found popularity is helping people remember their roots and their heritage," said the 65-year-old Bancsi, who plans to retire as a lawyer soon to concentrate on his new endeavor.
After winning a Chicken Paprikash Cook-Off at a local church in Cleveland in 2008, Bancsi decided to create this simmer sauce for people who enjoy eating chicken paprikash but do not have the time to cook it from scratch.
"We tinkered and tweaked the recipe so it could be mass-produced but still retain its authenticity and taste," explained Bancsi. "It took almost two years but I'm very happy with the results."
Each jar of Jozsef's Premium Paprikash Simmer Sauce seasons five-six pounds of chicken but there's more to the simmer sauce than just pouring it over the meat, according to Bancsi, whose likeness is on the jar label.
"It's easy to use. You simply pour the sauce over uncooked chicken thighs in a large pot and let it sit simmer until tender, stirring occasionally," said Bancsi. "The juices and the sauces simmering together bring out the taste."
Bancsi, however, suggests using chicken thighs for the most authentic flavor and taste experience. Chicken breasts can be substituted for the thighs and he also recommends using the sauce with pork, beef or veal.
Bancsi's parents owned a restaurant in Budapest but were forced to flee Hungary when he was ten years old. After reaching Austria, they made it to the United States and moved to Sandusky, OH for a few years before settling outside of Cleveland.
After learning the family recipe from his mother and father, Bancsi would often serve chicken paprikash at family functions.
"It reminds me of having a family gathering, where everyone knows each other and has a lot of fun," says Bancsi. "Chicken paprikash brings back great memories for myself, my family and all of our satisfied customers."
Joseph's Paprikash Sauce, LLC is based in Cleveland, OH. For additional information visit PaprikashSauce.com or contact Kimberly Bancsi, Director of Marketing at kim(at)paprikashsauce(dot)com or 440.781.2355.
###