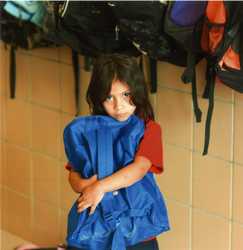 If it weren't for this place, I wouldn't know what to do.
Dallas, TX (PRWEB) August 11, 2009
The North Texas Food Bank has announced that the 2009 Food4Kids Campaign has resulted in a record number of donations totaling $291,331. At the same time, the 2010 campaign has kicked off strongly with $60,000 in lead donation commitments. The letter writing campaign, begun three years ago by long time NTFB supporter Pam Beckert, relies on a Host Committee of community members, who open their address books and write letters of solicitation to their friends. This years campaign was chaired by Joanne & Charles Teichman and Sallie & Brown Plummer.
Lead donors (Super Backpackers) in 2009 who donated $10,000 include: Pam & John Beckert, Jenny Birge, Diane Buchanan & Rick Andrews, Lauren Embrey, Galleria Dallas, Lisa & Peter Kraus, Carol Marvin, Vicki & Hicks Morgan, Joanne & Charles Teichman and Frito Lay.
Included in the results are 100% of proceeds of the sale of an exclusive charm ('Chip for Charity') designed by Catherine Michiels for Ylang 23. The charm can be purchased online at http://www.ylang23.com/shop_prodDetail.cfm?ShopBy=Search&SearchWords=chip&ItemID=17569 ylang23.com.
The 2010 Food4Kids Campaign was kicked off at a reception at the Goss-Michaels Foundation, and incoming chairs Joyce & Tim Goss and Joanne & Charles Teichman announced that they have already received commitments for $60,000 in lead gifts and are anticipating another record campaign.
About the North Texas Food Bank
The North Texas Food Bank (NTFB) is a nonprofit hunger relief organization that distributes donated, purchased and prepared foods through a network of feeding programs in 13 North Texas counties. The NTFB supports the nutritional needs of children, families and seniors through education, advocacy and strategic partnerships. Founded in 1982, the NTFB is a certified member of Feeding America (formerly America's Second Harvest - The Nation's Food Bank Network). Last year, 26 million meals were distributed. Each month, agency pantries distribute food to more than 50,000 families and on-site meal programs serve 435,000 meals/snacks. Every dollar donated to the NTFB provides four meals for the hungry. Out of every dollar donated, 97 cents goes directly to hunger relief programs. Quotes Jan Pruitt, Director of the North Texas Food Bank, in referencing the economy and need: "There is an urgent need for funds and food right now."
About the Food4Kids Back Pack Program
The Food4Kids Back Pack Program was created because of concerns about children not having enough to eat at home. According to a report by Feeding America, Texas has the highest rate of child hunger in the nation, as one of every four children does not have consistent access to food. North Texas Food Bank officials have received reports from schools of children eating food off the cafeteria floors and out of the garbage. The North Texas Food Bank trains teachers to look for other signs of chronic hunger including short attention spans or behavioral problems. The Food4Kids packs are loaded with easy-to-fix snacks including peanut butter and jelly, pudding and fruit cups, because some kids spend time at home alone while their parents work. Thank you notes from recipients are numerous, including Abigail: "You are so kind to help my family with extra food", and a Carrolton, Texas mom: "If it weren't for this place, I wouldn't know what to do."
How You Can Help
To join the 2010 Food4Kids campaign to make a difference by meeting the increased need of feeding hungry children, please refer to the contact information below
# # #