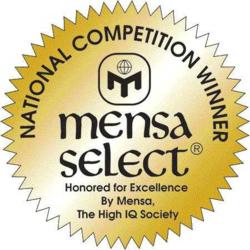 If you're purchasing a Mensa Select game, prepare for some smart fun.
Arlington, Texas (PRWEB) April 12, 2012
Metropolitan Washington Mensa hosts Mind Games®., one of the biggest board game events in the U.S., April 20 – 22 at the Hyatt Dulles Hotel in Herndon, Va. This sold-out event is a "must attend" gathering for some of the most discriminating board gamers, members of Mensa. It features a weekend-long, non-stop, hands-on competition room with brand new games and a dedicated crowd devoted to finding this year's best new games.
The annual Mind Games event allows manufacturers to put their new-to-market games to the test as Mensa members play and rate each title. This year a record-setting 69 games have qualified to be in the competition. These games have been on the market for less that a year. For 40 straight hours, members of the high IQ society play innovative games, judging them on aesthetics, instructions, originality, play appeal and play value, and then cast their ballots and comment cards. On the final day of the event, votes are tallied and five games receive the honor of bearing the Mensa Select® seal. The 2011 Mensa Select winners were InStructures ®, Pastiche, Pirate versus Pirate TM, Stomple TM, and Uncle Chestnut's Table Gype. Past winners include Scattergories TM, Trivial Pursuit, Genus Edition TM and Apples to Apples ®.
"If you're purchasing a Mensa Select game, prepare for some smart fun," said Greg Webster, Chief Judge for the 2012 Mind Games. "If consumers purchase a game with a Mensa Select® seal, they are not only getting a product that brings great entertainment, but one that will provide a challenge for the mind as well." For more information about Mind Games, log on to http://www.mindgames.us.mensa.org.
American Mensa is an organization open to anyone who scores in the top 2 percent on an accepted, standardized intelligence test. The organization has more than 57,000 members in the United States and more than 110,000 members around the world. Members of Mensa attend local and national events, join special interest groups such as astronomy and philosophy, and help out in their communities through various projects. For more information about Mensa, or to apply for membership, visit http://www.us.mensa.org or call (800) 66-MENSA.