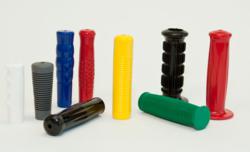 With the acquisition of the Hunt-Wilde grip line, GripWorks can provide virtually any grip solution available in the market.
St. Louis, MO (PRWEB) October 26, 2011
GripWorks, a Sinclair & Rush company and a leading manufacturer of hand grips for original equipment manufacturers (OEM), has acquired the entire mold line of Hunt-Wilde brand injection molded hand grips. The acquisition is a move that expands the existing GripWorks product line by over 100 styles, making it the most comprehensive line of hand grips in the world. GripWorks will manufacture the Hunt-Wilde grips along with its existing line of vinyl dip molded, extruded vinyl and extruded foam grips in its production facilities in St. Louis, Missouri.
The Hunt-Wilde brand originated in 1946 and developed a reputation for high quality, ergonomics and innovative design, especially within the U.S. bicycle industry. Changes in this industry led to ownership changes beginning in 2006.
In September 2011, GripWorks purchased the tooling assets for the Hunt-Wilde brand grips. As a global supplier of hand grips to many of the world's largest manufacturers of OEM equipment, GripWorks saw that strong demand still existed for the Hunt-Wilde line of injection molded grips and viewed the line as a perfect complement to its extensive line of dip molded and foam grips.
"GripWorks has always been a brand focused on providing solutions to our customers," said Brad Philip, President and COO of Sinclair & Rush, Inc. He went on to say, "With the acquisition of the Hunt-Wilde grip line, GripWorks can provide virtually any grip solution available in the market. When you couple the breadth of our product lines along with our fully integrated global presence, GripWorks is able to offer design and engineering services and customer support that are unparalleled in the industry."
GripWorks has begun producing grips on its existing injection molding machines and has ordered additional presses to accommodate the increased production demand. Its existing sales and customer service teams will help all customers with any transition issues and plans are being developed to create stock programs and integrate the line into its online ordering system.
About GripWorks:
GripWorks is a single source supplier of vinyl dip molded, injection molded, extruded vinyl and extruded foam hand grips. Manufacturing quality grips since 1950, GripWorks innovative manufacturing techniques have earned the company a global reputation as a preferred supplier to the hand tool, lawn and garden, exercise and health care equipment, ergonomics industries, and more. Combining years of experience, the latest design technology, and state of the art manufacturing expertise ensures that grips produced in its plants are of the highest quality. Learn more about GripWorks at http://www.gripworks.com.
###