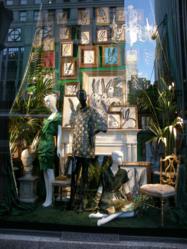 It is an honor to have Hunt Slonem share his magical artwork with The Lenox and its guests
Boston, MA (PRWEB) April 05, 2010
The Lenox Hotel, flagship of Saunders Hotel Group, will transform its Back Bay lobby to showcase an installation of American painter Hunt Slonem entitled "Nature. Nurtured." The works of the illustrious artist known for his "animal magnetism" will be on display from April 1 until Memorial Day for residents and tourists to enjoy.
The Manhattan-based artist combines abstract expressionism with a love of wildlife to captivate audiences of all ages. His notorious New York City loft devotes one room entirely to paintings of rabbits, a collection Slonem started after discovering on a Chinese food menu that he was born in the year of the rabbit.
"It is an honor to have Hunt Slonem share his magical artwork with The Lenox and its guests," says Scott Grigelevich, Director of Sales and Brand Ambassador for The Lenox Hotel. "We're delighted to house such a cultural marvel for all to view." The Hunt Slonem Show in The Lenox lobby is curated by DTR Modern Galleries and is open to the public starting Thursday, April 1st until Memorial Day.
The artist will make a personal appearance on May 6th at The Lenox Hotel and will be available for media interviews from 4pm to 5:30pm. To schedule an interview or arrange a photo opportunity with Hunt Slonem, please contact Diane Mantouvalos at (617) 416-4897 or email either contact above.
About Hunt Slonem:
Since 1977, Hunt Slonem has had over 150 solo exhibitions. More than 75 museums internationally include his work in their collections including the Metropolitan Museum of Art and the Guggenheim Museum. (See video for more background on Hunt Slonem, who was recently on CBS Sunday Morning)
About The Lenox:
Built in 1900, The Lenox Hotel is steeped in tradition, but it's the Saunders Family's long-standing commitment to exemplary service that keeps The Lenox in fashion... A quality appreciated by its loyal guests, clients and employees. For two decades, The Saunders Group has trailblazed an "eco-friendly" strategy at its hotels, making The Lenox Hotel in Boston's historic Back Bay the global pioneer in luxury, urban ecotourism.
Lenox, The Original Boutique Hotel
Visit Lenox Hotel on Twitter @lenoxhotel.
###