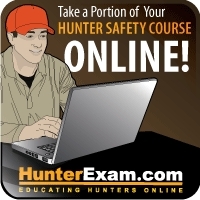 At this time of year everyone is looking to get into a Field Day.
Reno, NV (Vocus) September 24, 2010
For many hunters, National Hunting & Fishing Day (September 25th) represents an unofficial launch to the hunting season. However for many new hunters, it is a reminder to take a hunter education course before it's too late.
Over 25 jurisdictions now use the HunterExam.com Online Hunter Safety Course program to certify new hunters. The program adopts an online course + Field Day approach, where students complete the theoretical hunter safety coursework from home, and attend a single instructor-led Field Day to complete hands-on training, and a written final exam.
However with the growing popularity of online hunter safety instruction, in certain areas (and especially when hunting season is approaching) Field Days fill up quite quickly and it becomes increasingly difficult to sign up for one. "At this time of year everyone is looking to get into a Field Day." Says Kerry Moher, VP at HunterExam, "In some states these classes are very difficult to find if students don't plan ahead and that can be frustrating for everyone. Our best advice is to check out the class schedule and book a Field Day well in advance."
Of course, the traditional classroom course is always an option for students, however most students do not enjoy the thought of spending 10-15 hours in the classroom, and many simply don't have that kind of free time. With the Internet-based course, hunting students can study from home when they have the time. The interactive and fully narrated online hunting course is tailored for every state to meet that state's hunter education requirement and to fully prepare students for the written final exam.
Some state agencies have decided to fully embrace the "home study" approach to hunter education. "We have to commend most state agencies for doing a great job training instructors and scheduling Field Days." Says Moher, "In particular, students who take our Nevada Hunter Course or our California Hunter Course can be confident there is never a Field Day too far away."
Due to HunterExam's policy of continuing education, all hunter safety courses currently available online are free to anyone as a study guide. Students who use the HunterExam course for hunter safety certification pay a one-time fee of $24.95 upon completion of the online course. Other free resources available from HunterExam include a Treestand Safety Course that meets TMA guidelines, and three online shooting ranges.
For more information on Internet-based hunting classes, please visit http://www.HunterExam.com/USA.
# # #