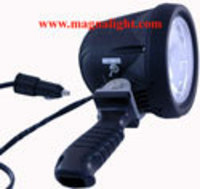 Kemp, TX (Vocus) September 13, 2009
Larson Electronics Magnalight announced the addition of the HUL-18 spotlight for commercial and sporting use. The HUL-18 spotlight features a five inch lens and extra long tungsten filament halogen bulb that produces approximately twice the candlepower of a standard H3 halogen 100 watt bulb. A form fitting handle and detachable 16 foot cord with cigarette plug completes the HUL-18 spotlight. A toggle switch activates the beam and the spotlight carries an IP67 rating for waterproof operation. The HUL-18 is available in either a 12 volt or 24 volt configuration.
"The HUL-18 is applicable as a work light or a hunting spotlight," said Rob Bresnahan with Larson Electronics Magnalight. "The HUL-18 is a very durable spotlight that we developed for especially rugged applications. The construction enables easy field maintenance which makes this a long lasting, serviceable hunting spotlight or utility light. However, the most unique aspect to this spotlight is the bulb. The bulb is actually an adaptation of our popular High Intensity Discharge (HID) bulbs. We substituted the HID structure with a high grade tungsten filament that is nearly 5 times the length of a filament in a standard H3 or H4 bulb. As such, the filament produces much more light and is extremely durable. In a sense, it is a throwback to the time of Edison. At one time, all filaments were made with tungsten, but as time has progressed different blends of other metals were substituted. While much more expensive to produce, we really like the output on this tungsten bulb. The spotlight beam is dramatically brighter and longer than a 100 watt H3 found in most spotlights today and the longevity in terms of life hours is north of 1000 hours."
Rob continued, "Every component, including the toggle switch, is accessible and easy to change in the field as well. We also include an American made cigarette plug. We have evaluated a slew of Asian sourced cigarette plugs, but haven't found anything that sticks into a cigarette plug socket as well as the original American made plug we started with 40 years ago. Finally, with a price point under $100, this 12/24 volt spotlight is ideal not only for soldiers and tactical users, but also farmers, hunters and fisherman.
You can learn more about the HUL-18 spotlight and the entire line of hunting spotlights and halogen and HID work lights at magnalight.com or 1-800-369-6671.
###