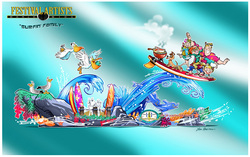 Huntington Beach, Calif. (Vocus) December 26, 2008
Mark your calendars for Thursday, January 1, 2009 at 8 am (PST). In honor of Huntington Beach's 100th Anniversary of Incorporation, the City of Huntington Beach (also known as "Surf City USA®"), presents its first-ever float in the 120th Rose Parade®. Themed "Surfing Family," the City's Centennial Celebration Float joins dozens of magnificent floral entries, as well as high-stepping equestrians and spirited marching bands.
Huntington Beach's float captures the essence of living in "Surf City USA." Measuring 55-feet long and 30-feet high, the float features waves, surfboards, local ocean life such as fish, pelicans, seagulls and dolphins, and a Surfing Family having a barbecue on a giant surfboard with their faithful dog in attendance. Evoking the image of the famous Huntington Beach Pier, the float also features the official City of Huntington Beach Centennial Celebration Logo and a stand for human riders. Festival Artists, whose previous floats have won more than 75 Rose Parade awards, designed and built the surf- and family-oriented float.
Although built with the help of a professional float company, hundreds of volunteers have assisted in the decoration of the float since Thanksgiving. The float features thousands of flowers, including the Centennial Geranium™ -- a flower propagated in honor of Huntington Beach's Centennial.
Joining Keith Bohr, Mayor of Huntington Beach, on the float are other community representatives, such as 2008 Miss Huntington Beach Cayce Crowder and representatives from the city's celebrated Junior Lifeguard program, as well as six city residents whose names were drawn from more than five hundred entries at a recent City Council meeting.
The 120th Rose Parade, themed "Hats Off to Entertainment" steps off Thursday, Jan. 1, 2009 at 8 a.m. (PST), featuring floats, equestrian units and marching bands. Each year, the Tournament of Roses organization adds new entertainment elements to the Parade, delivering a fun-filled, family-oriented celebration of the New Year. ABC, NBC, Univision, HGTV, Travel Channel, Discovery HD, as well as KWHY and KTLA in the Los Angeles area, will broadcast the Parade, which is seen in more than 150 international territories.
For additional City of Huntington Beach Centennial Celebration information, including a month-by-month calendar of Centennial activities, please visit http://www.HB100Years.org.
For additional information on Tournament of Roses, please visit the official website at http://www.TournamentOfRoses.com.
For complete visitor information, including a complete Calendar of Events and destination videos, please visit http://www.SurfCityUSA.com. For a free 2009 Huntington Beach Visitors Guide, please visit the website or call 1-800-SAY-OCEAN (1-800-729-6236).
About the Huntington Beach Conference and Visitors Bureau
The Huntington Beach Conference and Visitors Bureau is the official destination marketing organization of Huntington Beach, Surf City USA®. One of Southern California's premier coastal destinations, Huntington Beach is the ideal location for a California family vacation or relaxing weekend getaway.
With 8.5 miles of wide-open white sand California beaches, Huntington Beach is a destination of choice for vacationers and business travelers alike. To plan your Surf City USA® vacation, or to learn more about Huntington Beach, visit the Huntington Beach Conference and Visitors Bureau website at http://www.surfcityusa.com or call 800-729-6232 for a free Visitors Guide.
Surf City USA® is a registered mark of the Huntington Beach Conference and Visitors Bureau.
Media Contact:
Huntington Beach Conference and Visitors Bureau
Kerry Hoey, Media Coordinator
Ph: 714-969-3492, ext. 207
# # #