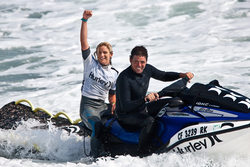 would really like to see our world healthy.
Huntington Beach, CA (Vocus) August 28, 2009
On September 19, 2009 surfers will stand with their surfboards to support coastal preservation at the Rip Curl "Surfboards in the Sand" event on the sands of Huntington Beach. Expect two of those boards to belong to women's surfing champions of the past and present, Linda Benson and Courtney Conlogue.
Benson, the first US Women's Surfing champion in 1959, and Conlogue, the 2009 winner of the Hurley US Open of Surfing, will come together with Peter "PT" Townend, pro surfing's first World Champion, and other surf stars, Hollywood celebrities and thousands of surf fans at Rip Curl's Surfboards in the Sand. The event benefits the Surfrider Foundation and Orange County Coastkeepers. An epic photo of the collaboration of surfers and boards on the beach will be shot and published by Transworld SURF. An autograph signing will take place after the photograph.
Linda Benson has been involved with surfing for over 40 years. After winning the first US Women's surfing championship in 1959, she held onto her title from 1960-1961, '64 and '68. Benson also acted as a movie surfing double for stars such as Annette Funicello and has been inducted into both the Surfing Walk of Fame and the International Hall of Fame.
Courtney Conlogue, a Huntington Beach native, has been surfing in the US Open since she was twelve years old and this year, at the age of sixteen, took home the $10,000 champion's prize. She also recently won two gold medals at the Billabong ISA World Surfing Games. Conlogue is an active supporter of the environment, who says that she "would really like to see our world healthy."
"We are ecstatic to have Courtney and Linda, the first and the reigning women's surfing champs, supporting Rip Curl's Surfboards in the Sand," said Donna Mulgrew, Vice President and COO of the Huntington Beach Marketing and Visitors Bureau. "It's wonderful to have today's best surfers joining surfing's great legends to help support the preservation of our coastal water resources - their participation is an important part of what makes this event both unique and epic."
The Rip Curl Surfboards in the Sand will be an annual event, taking place next to the Huntington Beach pier. By pre-registering online for $10 by September 10th, participants will receive a free commemorative Rip Curl t-shirt (valued at $25) and a one-year subscription to Transworld SURF magazine (newsstand value of $59.88). Registrations received after the 10th will cost $20 and t-shirts may be limited. Those who cannot attend can still support the cause by purchasing the special edition Rip Curl-Surfboards in the Sand t-shirt online.
Or look for us on Facebook at: http://www.facebook.com/SurfBoardsintheSand and follow us on Twitter@SurfboardsNsand
To plan your Surf City USA® vacation, or to learn more about Huntington Beach, visit the Huntington Beach Marketing and Visitors Bureau website at surfcityusa.com or call 800-729-6232 for a free Visitors Guide. Groups of 30 or more can reserve their place in the sand for the epic photo by contacting Jodi Book at 714.658.3427 or Jodi (at) bookthatevent (dot) com.
Sign up or show your support! Register online at http://www.SurfboardsInTheSand.com
The Rip Curl Surfboards in the Sand is sponsored by Rip Curl, Transworld SURF, MWDOC (Municipal Water District of Orange County), Huntington Beach Marketing and Visitors Bureau and the Huntington Beach Centennial Committee.
###