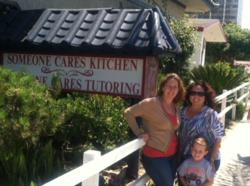 We make a living by what we get, but we make a life by what we give.
Huntington Beach, CA (PRWEB) June 28, 2013
As a part of their continued efforts to support their local community, attorneys of Surf City Lawyers, located in Huntington Beach, gathered food items and delivered them to Someone Cares Soup Kitchen today. "We understand that so many families are experiencing hard times due to the current economy and we want to do our part to provide help and hope," says bankruptcy attorney Christine Wilton.
Surf City Lawyers looks forward to participating each month, with local charitable organizations because "we are grateful to have a successful law practice group in Huntington Beach, which allows us to provide community outreach and support," says attorney Anna Serrambana. Charities looking to be spotlighted by the firm should contact the firm's administrator, Berta Wiegmann at: berta(at)a-rlawgroup.com
Attorneys Christine A. Wilton and Anna Serrambana are partners of Surf City Lawyers and members of the Orange County Bar Association. Members are encouraged to donate much-needed food items to Someone Cares Soup Kitchen, a nonprofit hunger relief program that serves 300-350 meals per day to the disadvantaged in Orange County. You can donate items directly at the Soup Kitchen, 720 W 19th Street in Costa Mesa.
Someone Cares Soup Kitchen (Soup Kitchen) provides a daily nutritional meal to homeless, unemployed, working poor families, senior citizens, the unemployed or under-employed, the mentally and physically challenged and most important . the children. We believe that no one should go to bed hungry on the street or otherwise. Therefore, the Soup Kitchen provides meals seven days per week. Meals are served Monday through Friday from 12:00 p.m. to 3:00 p.m., and a breakfast is provided every Saturday and Sunday morning from 9:00 a.m. to 11:00 am.
About Surf City Lawyers
We are a community of Huntington Beach lawyers, Christine A. Wilton and Anna Serrambana who have joined forces for the benefit of their clients and their community. They work and live in Huntington Beach, California and practice what their grandmothers have taught them. Practice areas include Estate Planning, Business Law, Consumer Bankruptcy Debt Relief and Student Loan Law.