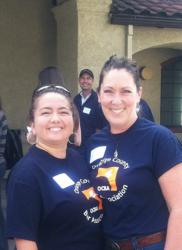 This is part of who we are as mothers to spend time with children living without their parents
Orange, CA (PRWEB) May 12, 2013
This marks the beginning of a Mother's Day tradition for Law Offices of Christine A. Wilton to participate with the Orange County Bar Association and Surf City Legal, LP by volunteering to visit the children of Orangewood Children's Home. With the help of A & R Law Group, the firm's attorneys brought snacks and drinks, along with activity items. Orangewood Children's Home is a temporary home to children between the ages of 2 days to 18 years.
Orangewood Children & Family Center cares for children who are victims of neglect and abuse. Planned activities include playing games and doing crafts. The children have said that the best part of their stay at Orangewood is when volunteers come to visit them.
Attorney Christine Wilton says that spending time with the children allows her to make a difference in the lives of these children. "As a mother, it is a privilege for me to spend time with children who are temporarily without their parents," says Christine Wilton, founder of Law Office of Christine A. Wilton. "The children were expecting us and it was so rewarding to play with them and let them just be kids."
What a better way to celebrate Mother's Day weekend than by volunteering and giving back to the community says Anna Serrambana, founding partner of Surf City Legal, LP and owner of A & R Law Group. The attorneys participated through the Community Outreach Committee of the Orange County Bar Association.
About Law Offices of Christine A. Wilton
Consumer protection and bankruptcy lawyers of Law Offices of Christine A. Wilton represent families facing financial difficulties, burdened by debts including taxes, student loans, credit cards, medical bills, law suits, fallen behind on home mortgage payments, or facing auto loans they can no longer afford. The firm has helped clients eliminate student loan debt and helped reduce principal mortgages through the bankruptcy process. The law firm is passionate about helping clients achieve financial freedom from their debts and fights oppressive debt collectors.
For more information please call 877-631-2220 or visit their website http://www.attorneychristine.com for a free consultation.
Source: https://www.ocbar.org/Events.aspx?sessionaltcd=COCORANGEWOOD5-11