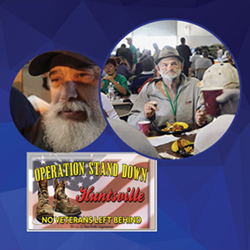 30% of Alabama's homeless population is made up of ...American heroes. As a caring community, we just have to do better. Operation Stand Down enables those who have sacrificed so much for our country to find the compassionate assistance they deserve
Huntsville, AL (PRWEB) February 15, 2016
Brewer & Associates, a full service insurance firm serving families of the Huntsville, AL metro area, has announced the latest beneficiary of their ongoing community enrichment program. The current campaign fundraises for Operation Stand Down Huntsville, an organization which reaches out to the area's homeless veterans. Readers wishing to provide a safe, informative, welcoming environment for these American heroes, where they can find help and hope, may visit: http://www.osdh.org/donations.html.
Operation Stand Down was begun in San Diego in 1988 as a grass-roots, community-based intervention program designed to help the country's estimated 260,000 homeless veteran combat life on the streets. In the military, Stand Down affords battle-weary soldiers the opportunity to renew their spirit, their health and their overall sense of well-being. Operation Stand Down brings homeless veterans together for a one to three day event providing access to local, state and federal resources which can address their individual needs and help them to begin rebuilding their lives as productive, responsible members of the community
"30% of Alabama's homeless population is made up of true blue American heroes," stated Ross Brewer, owner of Brewer & Associates. "As a caring community, we just have to do better. Operation Stand Down enables those who have sacrificed so much for our country to find the compassionate assistance they deserve. We are honored to help them in whatever way possible."
Brewer & Associates has just recently launched their master charity program, pledging to select a worthy local organization, family or individual every two months to receive their support. The agency's caring team is mobilizing support for Operation Stand Down through their social media, email and text message communications. They have also dedicated a full page of their monthly publication, which is delivered to thousands of households in Huntsville and surrounding communities, to feature the campaign. The electronic Flipbook version of the Our Hometown is available here: http://www.brewerandassociates.com/Our-Hometown-Magazine_46.
Readers who wish to join Brewer & Associates in taking a stand for homeless veterans through the efforts of Operation Stand Down are invited to visit the campaign's webpage, and are encouraged to help spread the word by forwarding it to others. The agency itself has promised to donate $10 to Operation Stand Down for each and every referral they receive for an insurance quote, with no purchase necessary. Referrals and donations may both be made here: http://www.brewerandassociates.com/Taking-A-Stand-For-Homeless-Veterans_17_community_cause.
To learn about past campaigns supported by Brewer & Associates, please visit: http://www.brewerandassociates.com/community-cause. More information on the agency and Operation Stand Down is available here: http://www.brewerandassociates.com/ and http://www.osdh.org/.
About Brewer & Associates
Serving families from two locations in Huntsville, AL, award-winning Brewer & Associates is a family owned and operated, full service insurance agency which is committed to bringing local people an agency which understands their needs. Ross Brewer and his team of dedicated professionals work with carriers to assemble a variety of products and services which will ensure clients' peace of mind. From all of the products a typical consumer needs (home, auto, boat, ATV, etc.), to financial planning and retirement, their goal is to deliver consistently superior service. The caring agents at Brewer & Associates may be reached by calling 256-533-1200.