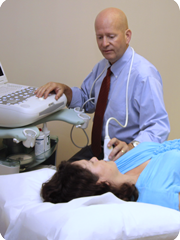 I love meeting people. After than being a physician, another way to brighten up someone's day is to give back to the community
Huntsville, AL (PRWEB) June 18, 2014
For this year's July 4th holiday, Huntsville physician Eric Beck would like the members of his community to give recognition to the Everyday Heroes among them.
"Everyday Heroes' are those ordinary people in the community that have done extraordinary acts of kindness in an effort to make a difference in someone else's life," said Dr. Beck.
In order to make this possible, he has organized a "Nominate a Hero" story contest. Huntsville residents can participate by visiting his website and nominating the person they believe is an everyday hero by explaining what the person does that has helped another person or group or the community at large.
"It is important to recognize and acknowledge the people who are making a difference in another's life in big or small ways." said Dr. Beck, physician Huntsville.
Once participants have nominated their heroes on Dr. Beck's website, they can urge their family members, neighbors and friends to vote for the "Nominate a Hero" story posted on the website.
Visitors to the website can also read all the "Nominate a Hero" stories that have been already submitted and vote for their favorite. The nominations and voting are set to end by July 18th 2014.
The nominee that receives the highest number of votes will receive a 1 FREE Massage Therapy Session.
Dr. Beck is actively involved in different community events and activities in Huntsville.
"I love meeting people. After than being a physician, another way to brighten up someone's day is to give back to the community," he said.
The Huntsville medical doctor has organized several community events and continues to do so.
He has also mobilized the community in various charitable efforts, including food drives, candy buy back drives and good deed contests.
Dr. Beck often rewards the members of the community with discounts on massages, exams and acupuncture treatments. His latest offer can be claimed here:
http://medicaldoctorhuntsvilleal.com/index.php/community_events/special-offer-huntsville-medical-doctor/
Dr. Beck proudly serves the residents of Huntsville, Birmingham and and Fort Payne. He is currently offering a discounted package for free Acupuncture and free Neuromuscular Exams. Coupons are readily available on his website.
Visit http://medicaldoctorhuntsvilleal.com/ for more information on his medical services and details of other community events in which he is actively involved.