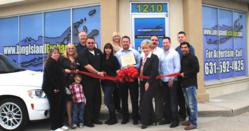 No one expected to see Montauk Highway flooded, at least to the point in which it had been. It's never happened in our lifetime and I can admit we were caught off guard
Long Island, N.Y. (PRWEB) December 07, 2012
Long Island Exchange Inc. ( http://www.longislandexchange.com ), a privately owned media company providing Long Islanders with a wealth of information, news and local business data, is pleased to announce the rebuilding of their facilities located at 1210 Montauk Highway (Route 27), Copiague, NY, a location which enjoyed its grand opening just days before Sandy hit.
Hurricane Sandy was a devastating storm which affected Long Island when it made its way through the New York Metropolitan area on Monday October 29th 2012. The Long Island area was among the hardest hit, flooding most of the outlying areas and creating unprecedented damage from flooding, downed trees and electrical outages due to high winds.
The offices located on the south side of Montauk Highway suffered severe flooding, water damage, roof damage and required mold remediation. In addition to structural damage, all computer and electrical equipment was destroyed. Long Island Exchange is thus pleased to announce that despite numerous disagreements with the property owner, the business has absorbed the costs involved to become operational in the aftermath.
"This was a tough decision for us being that we had the opportunity to vacate the property and simply walk away from the lease due to the extensive damage the business experienced and the owner's unwillingness to repair it. After a lot of thought we decided to whether the storm and rebuild to finish what we started when we secured this highly visible location along busy Montauk Highway. It's going to take more than some extreme weather, to sway our mission." said John Colascione, Founder and Managing Partner.
"We're rebuilding and working towards being better prepared if or when something similar to this ever happens again. No one expected to see Montauk Highway flooded, at least to the point in which it had been. It's never happened in our lifetime and I can admit we were caught off guard. Right now we're all just eager to get back to work and will resume normal business operations on Monday, December 10th" he added.
The web site, maintained on a mission critical and secure server, remained fully operational throughout the entire power-outage (about 7 – 10 days for many areas of Long Island) reporting critical information on the Hurricane and provided emergency news and information regarding shelters, government assistance and food-backs to local residents. Traffic to the web site soured five (5) to six (6) times of what it normally is according to management, indicating the increased need for information while many similar services went dark.
About Long Island Exchange Inc.
Launched in 2002, LongIslandExchange.com is a privately owned media company providing Long Islanders with a wealth of information, news, local business data, and resources for planning activities in the area. The web site serves over 1.8 million visitors who generate an average of 4,260,417 page views per year. [*Source: Google Analytics: 08/2012]. The site has won five awards from BOLI, Best on Long Island, in best of categories like "News, Media and Publications" as well as "Best Web Site of the Year".
For more information please visit longislandexchange.com