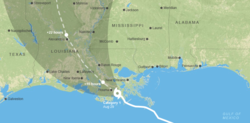 We expect to provide front-row seats for the World to watch.
Panama City Beach, FL (PRWEB) August 29, 2012
Since Hurricane Isaac changed it's path, Panama City Beach, along with much of Florida's Panhandle has been enjoying sunny blue skies, beautiful waves, and a nice breeze from the South.
Wind gusts of 60 miles per hour, and sheets of rain have been reported in New Orleans. The size of the warning area and the storm's wide bands of rain and wind prompted emergency declarations in four states. Residents have been boarding up homes, stocking up on food and water and preparing to evacuate.
Typically, the live webcams at the Sandpiper Beacon are used to show clear blue skies and famous sugar white sand of Panama City Beach to entice vacationers to visit the 'World's Most Beautiful Beaches'. However, over the next few days they will be used for the first time to capture the effects of the severe weather, allowing people all over the World to tune in and watch in real time.
The National Weather Service has issued warnings that Isaac could leave a very wet footprint along Florida's Gulf Coast. Isaac could push floodwaters as deep as 6 feet in the Florida Panhandle, while also dumping up to 18 inches of rain over the region.
"In the past we've noticed trends that suggest people also like to tune in to watch storms and bad weather conditions" according to Patrick Hazard, General Manager of the Sandpiper Beacon. "Couple this with the national media attention Isaac has received, and we expect to provide front-row seats for the World to watch."
The new cameras at the Sandpiper Beacon, are full HDTV 720p resolution. "Short of physically being here, this is as accurate coverage as you can hope for," said Hazard. "This isn't the typical picture-postcard view of the beach you might expect a business to use for marketing, but people have always been fascinated by seeing Mother Nature in action."
The Gulf Coast hasn't been affected by a hurricane since 2008, when the area was hit by Dolly, Ike and Gustav. Isaac has already caused eight deaths in Haiti and two more in the Dominican Republic, as well as downed trees and power lines in Cuba.
Despite some rough conditions in the Gulf, Panama City Beach is enjoying sunny, clear blue skies and the Sandpiper Beacon is still open with lots of family-friendly activities for vacationers to enjoy. Panama City Beach Attractions, Restaurants, and accommodations all expect to be back to business as usual by Labor Day weekend.
About Panama City Beach
Panama City Beach is situated on 27 miles of sugar-white sand beaches bordering clear, emerald-green waters where the Gulf of Mexico and St. Andrew Bay converge. With more than 300 days of sunshine annually and attractions such as St. Andrews State Park and Pier Park, the region has long been favored by travelers seeking an affordable beach vacation with year-round offerings for families, couples, groups and adventure-seekers. These include championship golf courses, spas, sporting events, award-winning dining and diverse recreational activities. Panama City Beach recently opened the new Northwest Florida Beaches International Airport, offering non-stop flights on Delta Airlines and Southwest Airlines.
About the Sandpiper Beacon Beach Resort
The Sandpiper Beacon Beach Resort is a family-friendly Hotel and Resort in Panama City Beach, Florida. Known as the "Fun Place", the Sandpiper is committed to value; offering so many activities, amenities, and so much entertainment, that guests never have to leave during their vacation. For more information, call 800-488-8828 or visit http://www.sandpiperbeacon.com.